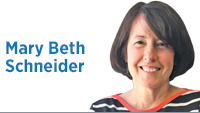 It is like living in a "Mad Men" episode.
Day after day, women finally speaking out about sexual harassment and abuse they endured in what should have been professional work settings. On Nov. 1, The New York Times had five separate stories on sexual harassment incidents and fallout, including accusations against a top National Public Radio editor.
It's 2017, yet it feels like the 1960s when women were viewed as mere eye candy for men, their bodies free to be commented on and touched.
In what world did national political reporter Mark Halperin feel it was acceptable to press his erection on women seeking to build careers in the news business, as at least three women alleged?
In what universe did NPR Editor Michael Oreskes think women appreciated forced on-the-mouth kisses as they sought jobs, as two told The Washington Post? Or for Bill O'Reilly to masturbate while on the phone with employees, as some charge? Or for Roger Ailes to make gratifying his sexual needs a condition of advancement at Fox News, as he has been accused?
Many in the entertainment business have been highlighted—most notably Harvey Weinstein and Kevin Spacey, who is accused of sexual abuse of an adolescent boy—but you'd think those in the news business would have absorbed some lessons from the stories they were reporting about others.
There is no way to stop every person from acting like a crude lout. Some may even get elected president after allegations of sexual harassment are made public.
But it would be a step in the right direction for more women to be in positions of political and business strength, leading as editors, executives and officeholders.
Progress has been made in all those areas since the "Mad Men" era of the 1960s. But not enough.
In Congress, only 84 women are in the 435-seat House of Representatives, with 21 in the 100-member Senate. That's a pathetic 19.6 percent, considering women are 50.8 percent of the U.S. population.
Across the 50 states, only 75 women hold elected executive offices—and of those, only six are governors. In state legislatures, 25 percent of the 7,383 representatives and senators are women. In Indiana, only seven of the 50 senators are women, with 22 women in the 100-seat House.
As weak as those numbers are, it's far worse in top businesses. Only 4.2 percent of Fortune 500 companies are run by women.
Earlier this month, a conference was held in Indianapolis, Ready to Run, to help women get the tools they need to run for office, with sessions on fundraising, network-building and harnessing social media to market one's self. The conference joins such long-running efforts as the Richard G. Lugar Excellence in Public Service Series devoted to helping women become engaged in Republican politics.
In a world where emulating "Mad Men" is still seen by some guys as just "locker-room" antics and "boys will be boys" fun, we need three things:
■ We need mad women: women who are angry and not going to be silent any more about unacceptable behavior.
■ We need women to be able to say "no" and not have that become a career dead-end, while the Weinsteins of the world prosper.
■ We need women who say "yes." Yes to taking on challenges in politics and business despite that voice in their heads that is telling them no. Yes to holding up their hands even though most of their lives it was the boys who got called on. Yes to running for office.•
__________
Schneider covered Indiana government and politics for The Indianapolis Star for more than 20 years. Send comments to ibjedit@ibj.com.
Please enable JavaScript to view this content.