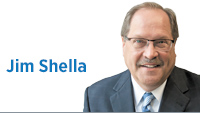 Congress is deadlocked. On what, you say? Well, almost everything.
Republicans and Democrats can't get along.
U.S. Rep. Luke Messer believes one factor is that R's and D's no longer socialize much. It makes it easier to dismiss one another when you don't know each other well.
Ideology is also a factor. Deep-seated differences and political concerns will sometimes get in the way, even if people do get along.
But gerrymandering just might be the biggest reason. It creates safe districts.
(In case you need reminding, gerrymandering is the drawing of district lines in a way that gives one party an unfair advantage over the other. For example, Republicans might create a district that is overwhelmingly Democrat-heavy and concede losing there. That keeps Democrats widely outnumbered in several surrounding districts.)
Lawmakers in safe districts, be they in Congress or in the Indiana General Assembly, don't need to cooperate with others because they have no fear of losing the next election. Worse, they might pay more attention to extremists in their own party, because the biggest risk of a challenge will come in a primary. That leads to deadlock.
Safe districts make for self-centered lawmakers. And re-election is top of mind for most of them, whether they admit it or not.
My state representative, Ed DeLaney, is a Democrat, and my state senator, John Ruckelshaus, is a Republican. They are working together on a plan to change redistricting in Indiana to reduce or eliminate gerrymandering. I like that—the R and D working together part, that is.
I have also come around to the belief that the current redistricting method is, indeed, unfair. It's done by the General Assembly and currently all the decisions are made by members of GOP supermajorities.
And so, I was there recently when Ruckelshaus and DeLaney joined with Democratic State Rep. Carey Hamilton to hold a bipartisan town hall meeting on redistricting. Two hundred people showed up, way more than expected, which tells me there is legitimate concern about a system that allows politicians to choose their voters, rather than the other way around.
Ruckelshaus, DeLaney and Hamilton are in support of a plan that would create an independent commission to draw new boundaries for legislative districts. It is a plan that was the subject of a study committee in the General Assembly as well as a bill that was rejected in the 2017 session.
Passage of the bill would put a new system in place for the redistricting that will take place in 2021 following the 2020 census. An independent commission would draw the lines, but—and this is important—the General Assembly would have to vote on the maps.
Consider that Democrats currently make up as much as 45 percent of the population in Indiana. Yet on the floor of the Indiana House, Democrats represent only 26 percent of the people.
It's hard to see the fairness there.
But it's also easy to see how Republicans are reluctant to change the rules. It will only happen if the public demands it. (A pending ruling in a Supreme Court case challenging gerrymandering in Wisconsin might help.)
As a practical matter, the proposed redistricting bill in Indiana must pass in either 2018 or 2019 to be effective.
It's all about giving lawmakers reasons to work together. That can't be a bad thing.•
__________
Shella hosted WFYI's Indiana Week in Review for 25 years and covered Indiana politics for WISH-TV for more than three decades. Send comments to ibjedit@ibj.com.
Please enable JavaScript to view this content.