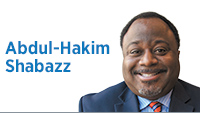 Immigration reform is a lot like reforming health care and balancing a budget: It's really not that hard to figure out if you're willing to work at it and apply some common sense. Unfortunately, in our nation's capital, both of those seem to be in short supply. Luckily, there are people like me who are more than happy to offer an idea or two to help our elected officials move the ball on this.
First of all, forget this silly wall idea. It's going to cost a lot of money and it won't work, which would explain why Congress is moving forward with it. The U.S.-Mexico border is nearly 2,000 miles long—1,989 miles to be exact. It runs through four states: Texas, New Mexico, Arizona and California.
The terrain is a lot more than desert; it's also two rivers, the Colorado and Rio Grande. There is also farmland and mountain areas, as well as deltas. So trying to build a nearly 2,000-mile wall straight across the border is going to take quite a bit of engineering.
Then there's the legal issue of eminent domain. The government owns less than 33 percent of the land along the border. Whose property gets taken and how much will it cost? Oh, and then there's that thing about how most illegal immigration as of late comes from people who overstay their visas, rather than crossing illegally.
Second, Congress needs to reauthorize the DREAM Act, which allows young immigrants to stay if they were brought here illegally by their parents and are being the good citizens we want them to be.
To qualify, you also must be in school, have graduated or obtained an equivalent certificate of completion from high school, successfully obtained a general education development certificate, or been honorably discharged from the Armed Forces of the United States. And you must not have been convicted of a felony, significant misdemeanor, three or more other misdemeanors, and must not pose a threat to national security or public safety. And for the record, Dreamers are not a drain on the economy. A recent survey showed 93 percent of Dreamers over the age of 25 are employed; 8 percent own their own businesses. Their average annual earnings are more than $36,000.
Third, the RAISE Act should be the framework for any immigration reform going forward. The RAISE Act has a little bit for everyone. For those of you who like to look at places like Canada and Australia for model health care providers, the RAISE Act borrows elements of their immigration system—a points-based system in which prospective immigrants are admitted based on predictors of success and economic impact to the country, rather than solely based on employment.
The RAISE Act also continues to provide priority for spouses and children of U.S. citizens, but limits "chain migration," in which extended family members can take advantage of the system. It does keep elderly parents in mind by giving the opportunity for renewable temporary visas for such individuals. Finally, the proposal calculates the 13-year average number of refugees entering the country (about 50,000 people) and codifies the number as an immigration limit. It eliminates the so-called diversity visa that arbitrarily distributes citizenship with no U.S. interest considered whatsoever.
I totally get border security, but we have to be smart about it. We need to focus on what works and not let emotional outbursts and histrionics guide our foreign policy. Thoughtful and comprehensive, that's how you do immigration reform.•
__________
Shabazz is an attorney, radio talk show host and political commentator, college professor and stand-up comedian. Send comments to [email protected]
Please enable JavaScript to view this content.