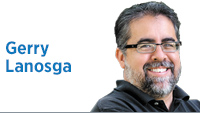 Gov. Mike Pence recently signed an executive order creating a data-sharing project called the Governor's Management and Performance Hub. The idea is to have a centralized clearinghouse for public data that top policymakers can use to systematically analyze problems—child fatalities and infant mortality, for instance—and the state's handling of them.
This "comprehensive and coordinated effort by state agencies" is actually a bit overdue, given the strides the private sector has made in recent years to take advantage of the Big Data boom.
The title of Pence's initiative suggests an internal management focus with an eye toward improving government efficiency. That, of course, is necessary and desirable.
Citizens should expect government to capitalize on the massive amounts of data being created to find more effective ways to operate.
And there is no question agency data sets could be joined to reveal hidden inefficiencies and suggest new policy approaches.
The Indianapolis Star characterized the data hub as "a government watchdog, of sorts." As one who studies, teaches and advocates for public access, I like that idea. But now comes the caveat.
While the data hub is a good idea, it shouldn't be allowed to substitute for or detract from efforts to open government data to the public. Indiana's Access to Public Records Act is clear that electronically stored data constitutes a public record, yet citizens and journalists face constant struggles in getting agencies to release data in its raw form.
Officials often simply refer data requesters to agency websites. In some instances, data are comprehensive and readily available, but in far too many cases the data is truncated, presented only in summary form or presented in a format that is difficult to use.
An example is the touted Indiana State Police school bus inspection data. You can scan summaries of districts' reports and look at individual bus inspections—but only one at a time. You can't download detailed statewide data or even data for a single district. Further, the data appears to consist only of current inspections.
So the data is useful if you are interested in a single bus. But it's of little use for systematically examining a school district or all of the districts over time. Making that sort of data available for download is straightforward, but the state seems to think citizens want or can handle only summaries and snapshots.
The question is, why not provide both?
To its credit, the Pence administration has said it will enhance the Indiana Transparency Portal, an existing online data repository for the public. But I worry that it has in mind ideas similar to the school bus data.
According to the Fort Wayne Journal Gazette, the portal will be revamped to allow the public "to customize the data to be viewed." That sounds like another fancy front-end that will allow casual users to point and click their way to specific bits of information. That's OK. But citizens also need greater access to unadorned, downloadable data that provides a look at the big picture.
Government should certainly find new ways to act as its own watchdog, and Pence's data hub is a good one. But it's no replacement for the independent watchdog that comes in the form of a well-informed citizenry. The governor is to be applauded for the data-sharing plan—but the public needs to be cut in on the sharing, too.•
__________
Lanosga is an assistant professor of journalism at Indiana University and president of the Indiana Coalition for Open Government. Send comments to ibjedit@ibj.com.
Please enable JavaScript to view this content.