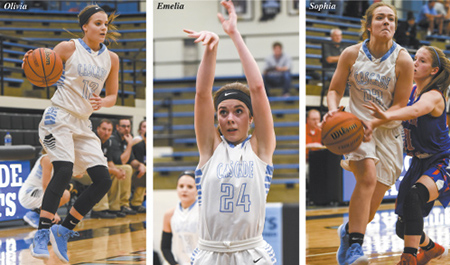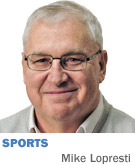 CLAYTON—Welcome to Cascade High School. You're just in time for the introduction of the lineups for the opener of the girls basketball season.
At guard for the Cadets, No. 13, Olivia Bryant … at forward, No. 23, Sophia Bryant … at forward, No. 24, Emelia Bryant.
Wait a minute. Triplets? Yes, and they come in assorted sizes: Olivia at 5-6; Sophia, 5-9; Emelia, 5-10. And the funny thing is, they take the floor this particular night opposite the order they came into the world. Back on June 11, 2000, it was Emelia, Sophia and Olivia. All were delivered in four minutes—in a way, their first fast break.
They didn't arrive with basketballs that morning. Those would come later. But not much later. Sophia: "I remember picking up the ball at the age of 3. And ever since then, it's been the sport we've loved the most."
It's the senior year for the Bryant girls, and there they were at the opener, starting together for the first time in their high school careers, against Indian Creek.
"I think it was a really good experience, because we've been playing together forever," Emelia said afterward.
This sort of thing has happened only rarely in the history of Indiana high school basketball. Triplets not only on the same team, but the same lineup. It was a big night for the couple up in the fifth row.
"I've already started being tearful," said Lorra. She's the mother with the shirt with room for three daughters' names.
"It's a proud moment. You're lucky to have one child play varsity, and to have three starting varsity …" said Jim. He's the father who put up a basketball goal in the family driveway a long time ago, in the metropolis of Cartersburg.
Triplets? Coach David Carpenter sat in his office before the game and talked about that.
"When I first heard about them, because I took the job when they were sophomores, I'm thinking, 'Triplets—OK, these three girls, they have to finish each other's sentences.' But they could not be three more distinct personalities if you tried."
They look alike, sort of. And yet, Carpenter finds it easy not to get them mixed up. "Having their personalities around for about an hour, you can't mistake who's who.
"They're great kids. The way they're so different, it helps with basketball, too. They're all different sizes, and they all play different."
Olivia? "I call her Peanut. She's the runt of the bunch. You can tell she's had to almost fight for everything her whole life with those two around. She's the one who's going to scratch your eyeballs out."
Emelia? "I keep saying I'm going to fund a tattoo for her that says, 'I love rebounds.' The parents aren't crazy about that, but the girl inhales rebounds."
Sophia? "She's a mixture of everything. She probably can jump the best of any of them. She's quiet. I don't think there's any room for her to talk, after those two are done.
"Olivia lives and dies for basketball, Emelia really likes it, and Sophia likes it enough."
So when is he reminded most that they are sisters?
"The water break. It's instant replay every day—a water bottle fight over there. 'You took my water bottle. No, it's my water bottle.' It's kind of funny to sit back and watch, because they just go after each other."
Jim and Lorra already had four kids—three from Jim's previous marriage—when the girls came along. They were the babies of the family by seven years. Jim was an electrical contractor, Lorra a nurse. Times were busy.
"We weren't going to let somebody else raise our kids," he said. "We worked it so one or the other was there all the time with our kids."
Older daughter Katelynn used to play with The Family, an Indianapolis AAU team, which led the triplets to the sport. "The girls were on the sidelines handling the balls when they were really little, and the older girls would play with them," Lorra said. "So they've always loved basketball."
Olivia was always a tad more driven for the sport. "If nobody else would play with her, she would get a ball in her hand and dribble up and down the road," Lorra said.
Because she's also the shortest, "people think Sophia and Emelia are twins, and then there's this extra one. Olivia hates that," Lorra said. "I call Olivia the cruise director. She wants to get everybody together. Emelia's very stubborn, bossy. She's the oldest. Sophia's very quiet and shy."
Jim again: "They fight sometimes, but they're best friends. They just don't realize it sometimes."
Did we mention how the girls can sing? They attended Tamika Catchings' camp at Warren Central, where players occasionally had to sing to the group as punishment for mistakes on the court. When it was the Bryant girls' turn, Catchings heard a few notes and decided they should perform the national anthem before a Fever game. So they did, twice.
About the opener against Indian Creek. Olivia scored in the first seven seconds. Emelia hit a couple of baskets. Sophia buried a 3-pointer. The triplets scored Cascade's first nine points of the season. But the Cadets let a double-digit lead get away in the end and lost 75-73, despite 30 points from Olivia. They went 17-6 last season, and Carpenter is expecting even more—maybe even the school's third girls basketball sectional title in history. This was not the opener he had in mind.
Afterward, the girls tried to put their story in perspective.
Olivia: "Since we were younger, our coaches told us not to look at each other like sisters on the floor, because my sister can yell at me and I'm not going to take it like another player yelling at me. I'm going to yell back at her. I can't do that. I've got to look at her like it's just another player, and that's hard for us to do."
Emelia: "I always tell people it's kind of like having sleepovers with your best friends every night. Except for you get really tired of each other really quick …  like sharing stuff. We share a lot of things, but sometimes it gets annoying not having your own things."
Sibling competition? They were probably elbowing one another to be the first born.
"We've grown up like that," Olivia said. "We've been taught, win it all or nothing at all. So we're very, very competitive in everything—it doesn't matter whether it's sports, academics, school."
(But not, thank heavens, boys. "I couldn't imagine what would happen if there was a guy involved," Carpenter said. "I just about throw up thinking about that.")
And there are the inevitable tiffs.
Emelia: "Very small ones most of the time, so they're over in about five minutes."
Sophia: "It's hard not to make up, because we love each other so darn much."
Carpenter thinks all three could play in college, and scouts are starting to really notice Olivia. "I think she's the best-kept secret for a small school," he said. As for the parents, three college bills are looming. "Scary," Lorra said.
"This is our last year, all three of us are together and we don't know if we're going to stay together," Olivia said. "We may be going off to different colleges; we don't know what the plan is."
But for now, the triplets of Cascade share the court as they share their bedroom. They can't remember when they haven't.•
__________
Lopresti is a lifelong resident of Richmond and a graduate of Ball State University. He was a columnist for USA Today and Gannett newspapers for 31 years; he covered 34 Final Fours, 30 Super Bowls, 32 World Series and 16 Olympics. His column appears weekly. He can be reached at [email protected]
Please enable JavaScript to view this content.