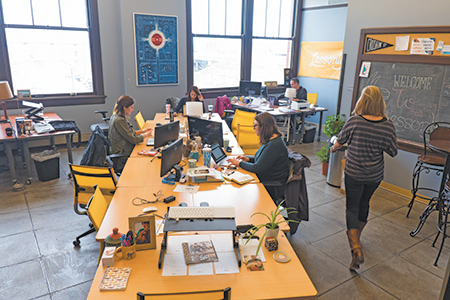 Indianapolis-based tech firm Lessonly Inc., which sells employee training software, announced Tuesday morning that it has raised another $8 million in venture capital from a variety of investors.
The funding is expected to be used to continue hiring more employees and support product innovation.
"This will help us continue to drive the product forward faster," CEO Max Yoder said.
The investment was led by OpenView Venture Partners, a Boston-based venture capital firm that previously invested in ExactTarget. The funding round also included support from New York-based Rethink Education and local firms High Alpha Capital and Allos Ventures.
OpenView, High Alpha Capital and Allos Ventures also participated in a $5 million funding round for Lessonly that closed in spring 2016. Lessonly also raised $1.1 million in venture funding in 2014. The firm was founded in 2012.
"OpenView's continued support of Lessonly speaks to the company's growth, focus on innovation, and ability to hire and retain some of the best talent in the Midwest," Ricky Pelletier, partner at OpenView and Lessonly board member, said in a written statement.
Yoder said company leaders used the previous funding to determine a preferred customer base, zeroing in on products for teams in sales and customer service, rather than human resources.
Part of the new funding will support ongoing product development.
Yoder said the company is testing a program that allows employees to practice skills and record themselves doing so either through a webcam or cell phone, and then use the footage to receive feedback on their performance. Proper examples could then be shared with other team members.
"Oftentimes, clients are like, 'We don't have any of these best practices documented,'" Yoder said.
That feature is expected to go live during next year's first quarter.
The latest investment is also expected to help Lessonly continue increasing its staff size. The firm has more than quadrupled since the beginning of 2016, when it had 17 employees. Today, it has 82 employees.
Yoder said he expects the company to grow to 120 to 140 employees within a year to 18 months.
The company wouldn't disclose revenue figures, but Yoder said 2017's revenue is expected to double 2016's figure.
He expects sales to grow quickly as more new clients come directly to Lessonly, rather than being reached through marketing efforts.
In 2015, only 12 percent of Lessonly's revenue came from customers directly approaching the firm, but that percentage has risen to 60 percent.
Lessonly has 500 customers, including Thumbtack, Trunk Club, Kabbage and Ibotta, and has surpassed 1 million users.
"The market is becoming aware there is technology out there," Yoder said.
Lessonly is also planning its first user conference, called Yellowship, which is scheduled for April 17-19 in Indianapolis.
Please enable JavaScript to view this content.