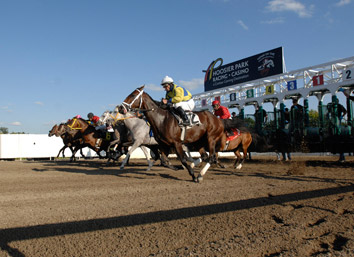 Las Vegas-based Caesars Entertainment Corp. is in the final stages of negotiations to buy locally based Centaur Gaming LLC's Hoosier Park casino in Anderson and Indiana Grand casino in Shelbyville, Bloomberg News is reporting.
Bloomberg said a deal—which, if approved, could create a gambling juggernaut in Indiana—could be announced this week, with the purchase price likely topping $1 billion.
The two casinos, which include horse tracks, generated $480 million in casino revenue in the latest fiscal year. A spokeswoman for Indianapolis-based Centaur on Thursday morning declined to comment on the report.
The deal would need approval from the Indiana Gaming Commission. The commission's deputy director, Jennifer Reske, said the agency has not received any notice of a deal.
State law prohibits one company from owning more than two casinos in Indiana. However, Reske said that doesn't apply to the racetrack-based casinos, which were authorized under a different law.
Caesars already owns two casinos in Indiana—Horseshoe Southern Indiana Hotel and Casino, which is located along the Ohio River in Harrison County, and Horseshoe Hammond Casino on Lake Michigan in northwest Indiana.
Ed Feigenbaum, publisher of Indiana Gaming Insight, a newsletter about the industry, said even if there are ownership issues, companies can use creative structures to get around the law. Merger activity in the casino industry has heated up lately, Bloomberg noted, as the overall level of betting nationally rises more slowly.
"What's happened in the last 1-1/2 years in the industry in general is that the commission has been pretty lenient—as have all the other regulatory bodies in the country—in letting real estate investment trusts run by gaming companies be involved in the ownership of casinos," Feigenbaum said. "There are new realities in the gaming business and the regulatory commissions nationally and in Indiana have seemed to recognize this and been willing to do things within the pragmatic market context."
If Indiana's gaming commission approves the purchase of Hoosier Park and Indiana Grand, it could give Caesars an interest in four of the state's five largest casinos, as measured by gambling revenue. That could raise questions among regulators and lawmakers, Feigenbaum said.
Horseshoe Hammond is the state's largest casino with $450 million last year in total "win," which is gambling revenue after payouts. Indiana Grand ranks second with nearly $271 million. Horseshoe Southern Indiana ranks third with $248 million. Hoosier Park is fifth with $209 million.
Centaur originally owned Hoosier Park and then bought Indiana Grand in 2013 for $500 million.
"You get into questions about whether it's appropriate for one company to have that much leverage, or potential leverage, because they can account for well more than 50 percent of the state's gaming revenue," Feigenbaum said. "That's potentially more than 50 percent of the state's gaming tax revenue."
This could be the first major deal for Caesars since recently coming out of bankruptcy. Caesars restructured its debt last month in a deal that created Vici Properties Inc., a separately traded real estate investment trust. So-called REITs, which have tax advantages that allow them to pay higher prices for assets, have helped increase the number of casino deals, Bloomberg noted.
Feigenbaum said REITs have allowed at least one other casino company to have investments in more than two casinos in Indiana.
Indiana Gaming Insight reported earlier this year that Clairvest, a private equity firm that invested in Centaur as part of a bankruptcy reorganization, had started entertaining offers for its share of the Indiana casino properties. Feigenbaum said Clairvest was "open for offers but not up for grabs."
"They wanted to wait for the right deal to come together," Feigenbaum said.
Indiana casino owners have regularly lobbied state legislators for the ability to add features to their properties, noting an overall slide in casino revenue over the last decade as competitors have popped up in neighboring states.
Due to legislation passed in 2015, the owner of Hoosier Park and Indiana Grand will be able to seek permission from the state to add table games such as blackjack starting in 2021.
In 2015, the CEO of a firm that owns another Indiana casino told IBJ that getting table games would increase the value of Centaur's properties, potentially leading to a sale. Centaur Vice President and General Counsel John Keeler told IBJ at the time that he wouldn't rule out the option of a sale, but he noted Centaur shelled out $500 million for Indiana Grand just two years earlier—a big investment to recoup so quickly.
In May, Reuters reported that Centaur was exploring a sale that could value it at more than $1 billion, including debt. Citing an unnamed source, Reuters reported that Centaur was working with investment bank Deutsche Bank AG on the sale process.
Casino operators have been consolidating in recent years, partly in response to a decline in revenue as gamblers age, Reuters reported.
Overall, Indiana's 13 casinos have gambling revenue that totals more than $2.2 billion annually.
Please enable JavaScript to view this content.