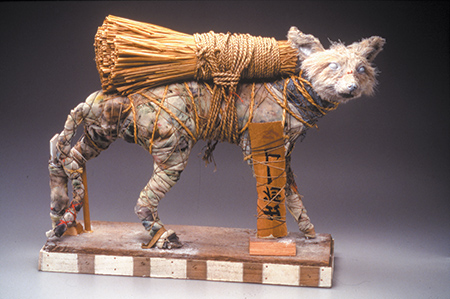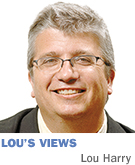 With its fur falling off, its limbs wrapped to hold it together, and loaded with bundles on its back, a fox trudges forward. A hand-beaded, text-and-image-free book silently speaks to both the drudgery and the meditative quality of repetitive, detailed work. A raven converses with the spirit of Ottawa leader Pontiac (housed in a car hood ornament).
Consistently one of the most thought-provoking and moving art museum shows in the region, "Native Art Now!"—at the Eiteljorg Museum of American Indians and Western Art through Jan. 28—not only gathers an array of intriguing, accomplished work, but also presents them in a way that adds up to more than the sum of its worthy parts. The show always seems smartly anchored, respectful but not uptight, open without being overly casual. And this year is no exception.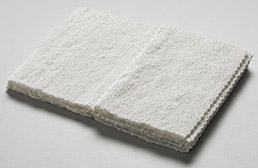 A "book" of delicate beadwork, Faye HeavyShield's "hours" evokes the unwritten lives of those doing repetitive "women's work." (Photo courtesy of Eiteljorg Museum)
But "Native Art Now!" isn't just an art showcase. Since 1999, the Eiteljorg Contemporary Art Fellowship has picked five featured artists to assist with grants. And the program has been a channel through which the museum has acquired much of its substantial contemporary collection.
Unlike previous fellowship shows here, though, "Native Art Now!" is a retrospective, bringing back pieces from the past. A documentary on the program will be airing on WFYI-TV Channel 20 in December.
This time around, because of the looking back/looking forward nature of the show—and the abundance of artists represented—there's less of a chance to get to know individual artists' work in-depth. But that's balanced with greater variety, allowing visitors to explore where their own tastes may lie and opening the door to further exploration.
You might be drawn to C. Maxx Stevens' "Three Graces," representing dresses that incorporate horsehair, sewing patterns, cards, branches and more. Or to Nicholas Galanin's deconstructed totem pole "I Think It Goes Like This," which wrestles with how we try to reconstruct the past.
Meryl McMaster's "In-Between Worlds: Wingeds Calling" could be the artwork on a poster of the latest mystical horror film. Or perhaps your tastes run to something bolder and bigger, such as Shelley Niro's "Unbury My Heart," a mixed-media piece with four panels representing earth, air, fire and water above a tangle of mouse-like plush pillows.
Or, for a little more whimsy—but with below-the-surface reverberations—there's Holly Wilson's bronze "Enough," in which a woman holding cupcakes contemplates one of far-too-many desserts.
I try to avoid the cliche of "something for everyone," but "Native Art Now!" demonstrates that contemporary Native American art can defy cliches with strong results.•
__________
This column appears weekly. Send information on upcoming arts and entertainment events to lharry@ibj.com.
Please enable JavaScript to view this content.