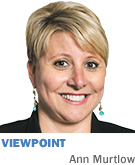 The Indianapolis Business Journal recently reported that the rate of poverty is nearly outpacing population growth in central Indiana, citing the sobering findings of the Sagamore Institute's 2017 Public Good Index. While Indianapolis added more than 89,000 citizens from 2000 to 2015, the number of residents experiencing poverty also rose by more than 85,000 Hoosiers.

This data should sound a deafening alarm for all of us who work for and are interested in improving economic prosperity in Indianapolis. While our city continues to grow, so, too, does the proportion of Hoosiers who can't make their rent, afford high-quality early education for their children, or access the health care they need. These are our family members, friends, neighbors and colleagues—thousands of real people who need our help and support.

As United Way of Central Indiana ushers in its 100th anniversary, we are more committed than ever to our mission of aiding struggling Hoosiers access the education, health, financial stability and basic needs that will help them achieve self-sufficiency. What's clear to us is that business as usual is no longer a viable option. That's why we're investing in organizations, programs and initiatives that address the deep-seated and increasingly complex causes of poverty.

One example: The Centers for Working Families are 12 neighborhood hubs that help transition families from living paycheck-to-paycheck to investing in their future—by getting a career, not just a job, and by saving for their first homes, not just by meeting expenses.

And we know that the cycle of intergenerational poverty can't be broken without focused investments in high-quality pre-K—so that children born into lesser means have the opportunity to develop the academic and developmental skills they need to succeed in school and in life.

Along with our agency and community partners, we feel well-positioned to help our most vulnerable neighbors succeed while Indianapolis continues to grow as a great place to live and work. But it will take all of us—employers, policymakers, civic leaders and individuals—raising our hands to solve the many issues that contribute to a person's ability to rise above poverty. And it starts with understanding what that reality actually looks like—whether by participating in a poverty simulation, mentoring a student whose family is struggling, or volunteering with a social-service organization that is working to meet people's most basic needs.

There's a quiet and growing sector of Hoosiers who need our help. We must harness our collective compassion and fight for them.•

__________

Murtlow is president and CEO of United Way of Central Indiana.