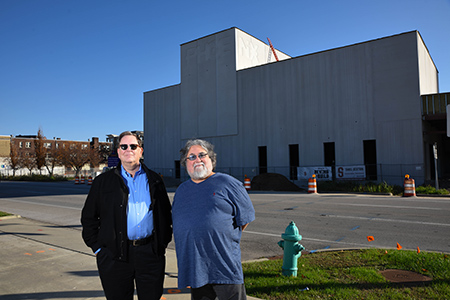 Kevin Kruse wishes the Phoenix Theatre had hired someone like him a year ago.
"I don't think the theater quite had a handle on the enormity of what needs to occur—and what is going to occur—between now and May, before we make the move," said the theater's new managing director. "The move is going to change, transform, empower and embolden this organization in ways that it has never known."
The move he's referring to is the relocation of the Phoenix to its 20,000-square-foot digs under construction at Illinois and Walnut streets, just off the Indianapolis Cultural Trail. 
The $10.1 million project isn't just about a building—even if it does give the 34-year-old theater its first custom-built home: an ADA-compliant one with spiffier amenities, costume and scene shops, actual dressing rooms, and the option to have two plays running at once without sound spillover. Greater outreach programming and educational offerings will be in the mix as well, with the Phoenix also serving as an incubator for new companies. 
With the building set to open in six months, the Phoenix's long-range plans include developing a $2 million contingency fund by the end of 2020 and a $3 million permanent endowment by the end of 2023.
And it now has a business leader to manage the finances—and more.
As bold as the new building will be, the hiring of Kruse represents an equally dramatic change taking place inside the organization. 
While the theater has had other staffers in the past with the title of managing director—including Sharon Gamble, host of WFYI-FM 90.1's "Art of the Matter"—Kruse will be the first to answer directly to the board.
All prior managing directors reported instead to founder and Artistic Director Bryan Fonseca.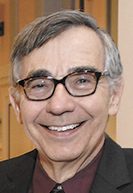 Basile
"We knew that needed to change," said Frank Basile, Phoenix board president. "The managing director needed to have full authority to operate the theater—constrained only by the board—and now we have a person who has the confidence and experience to truly be able to implement what's needed."
Kruse comes to the Phoenix with a wealth of experience acquired at theaters around the country. After administrative positions at Cleveland Playhouse, San Diego Repertory Theatre, American Stage Festival in New Hampshire, and Portland Playhouse, he served as director of finance and administration for the Maltz Jupiter Theatre in Jupiter, Florida, which specializes in audience-friendly fare such as this season's "Hairspray" and "Born Yesterday."
His early moves at Phoenix include bringing in Pam Dyar, Maltz's director of development. Dyar, whose late husband was Duke Realty Corp. founder Phil Duke, is the Phoenix's new director of advancement.
"The Maltz is one of the big dogs in this area," said Bill Hirschman, editor of Florida Theatre On Stage.
"Its staff has developed the theater into one of the most respected and important companies in the state, selling 90-plus percent of all seats all season," Hirschman said. "It does very good work and it's a whiz at raising money from a well-heeled community. It runs a very efficient, corporate-like ship heavy on advance planning."
Kruse will be working on a different scale at the Phoenix, which specializes in more intimate productions. "The amount of money [the Phoenix] puts into a show is probably what the [Indiana Repertory Theatre] spends on printing programs," he said.
Shared billing
The hiring indicates a change of power at the Phoenix, which Fonseca started in 1983. No professional not-for-profit performing arts company in the city has had the same person at the helm for so long, let alone one granted so much authority.
But Fonseca said he's completely behind the decision to have co-leaders.
"Honestly, it's a relief," he said of Kruse's hiring. "But the truth is, my responsibilities are actually increasing. I've dreamed of doing more with the artistic programming. I always wanted to be doing more as a community member, helping other organizations grow and develop. I've always been interested in a music series, a spoken word series, a public town hall series."
The current theater, Fonseca said, "locked us in in ways that we couldn't do that." 
Kruse said the theater's fundraising campaign—on top of administrative duties—forced Fonseca's attention away from the artistic work he was supposed to focus on.

"Nobody should be expected to carry that burden," Kruse said. "He now has a partner who has taken a tremendous amount of that day-to-day from him."
And Fonseca said he's looking forward to directing about half the shows staged in the new theater.
Kruse and the administrative team will now concentrate on raising the rest of the money for the building and figuring out a strategy to maintain and grow audiences.
Theater leaders are expecting the city of Indianapolis to soon award it federal New Markets Tax Credits worth $1.5 million to $1.9 million, which could be immediately invested into the construction project. That would bring the organization's fundraising balance to almost $9 million. Its goal is $10.1 million.
Money thus far has come via significant gifts from Lilly Endowment Inc., The Glick Fund, The Efroymson Fund, Lumina Foundation, Central Indiana Community Foundation and the Allen Clowes Charitable Foundation.
In February, the Herbert Simon Family Foundation, managed by the CICF, awarded the Phoenix a $700,000 grant. Other campaign donors include Christel DeHaan and her family foundation; late Celadon Trucking founder Steve Russell and his wife, Livia; philanthropists Ann and Chris Stack; retired Eli Lilly and Co. CEO John Lechleiter and his wife, Sarah; Gregory & Appel's Dan Appel and his wife, Kate, as well as board president Basile and his wife, Katrina.
 The load in
In some markets, including Washington, D.C., and Philadelphia, theaters opened larger theaters anticipating larger audiences—often discovering that building it isn't enough to get audiences to show up. 
Jon Faris, managing director for the acclaimed Chicago-area company Writers Theatre, which recently completed a $34 million capital campaign for its own theater, had some advice for the in-transition Phoenix. "One of the things you see regularly with a new art center is a larger number attending in the first year or two when people want to be able to say, 'I was there,'" Faris said. "Expect a drop-off around year three and a leveling out as you build your new audience."
He also advised making sure "that all of your stakeholders—including board, staff and the artists—are on board every step of the way. And while it's fun to have a beautiful new building, know that it starts to need maintenance almost from day one. Put a good, thorough plan in place and reinvest in the building."
But the payoff can be great. Writers Theatre went from 5,500 subscribers before its move to 7,500 after a year in its new building—while staying true to its mission.
Both Kruse and Fonseca insist that an expanded operation and new facilities won't compromise the challenging fare audiences have come to expect from the Phoenix. 
Kruse, for one, is glad the two theaters in the new building will be only slightly larger than those in the old. "Once you build a big machine and have to keep feeding it, then you've made a decision that's going to impact every area of the organizations, not the least of which is the artistic," Kruse said. "But we never want to be so beholden to chasing dollars that that becomes our major pursuit."
"At the end of the day," he added, "the business operation is there to enable the art."•
Please enable JavaScript to view this content.