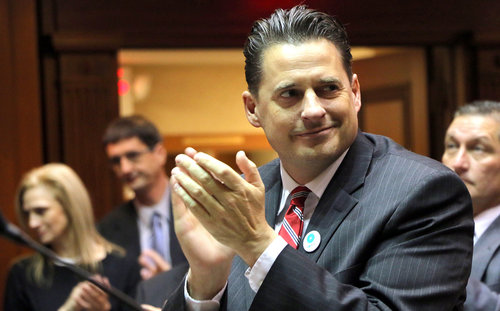 House Minority Leader Scott Pelath said he'll serve out his term but won't run for reelection in 2018.) (Photo by TheStatehouseFile.com)
Indiana House Minority Leader Scott Pelath says he's giving up that post and won't seek re-election next year.
He said Sunday that his last day as House Democratic leader will be on the Legislature's Organization Day on Tuesday. The 2018 session begins in earnest in January.
Pelath says he'll finish out the remainder of his term.
Pelath, of Michigan City, was first elected to the House in 1998. He was elected to lead the Democratic caucus in 2012, after members ousted former Speaker Pat Bauer, D-South Bend, as their leader. Bauer remains a lawmaker from South Bend.
In a letter emailed Sunday to House Democrats, Pelath said his decision was based in part on a desire to spend more time with his family. His wife, Laura, recently had a baby boy. He has two daughters from a previous marriage and a stepson.
Pelath said he had confided in some members of the 2016 election that he "was not going to do this forever."
"And after several months of repressed doubts, soul-searching, and discussions with my family that time has come—as it does for most of us," Pelath said in his letter.
"I have always viewed the position of leader as pure service, not one of grandiosity or ambition."
Democrats controlled the Indiana House in 1998 when Pelath was elected. John Gregg, who later ran for governor, was the speaker. And although Republicans controlled the governor's office and the Senate, Democrats were able to influence legislation.
Control of the chamber then seesawed back and forth until 2011, when Republicans regained the majority. Today, Republicans have a super-majority—with 70 of the 100 seats—which means they can have a quorum do business without Democrats even showing up. That has severely curtailed Democratic influence at the Statehouse.
Pelath works as a human resources director at the Michigan City-based Swanson Center, a mental health and addiction services agency.