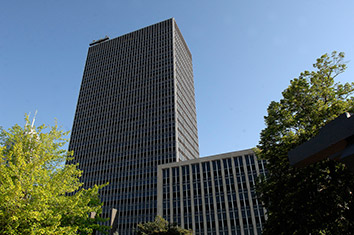 The Indianapolis City-County Council overwhelmingly approved a $1.3 billion budget, months in the making, at a meeting on Monday. Councilors adopted the bulk of the budget proposal 23-1, with Democrat Ethan Evans voting against.
"Tonight's vote signals a remarkable level of bipartisan cooperation as we take on the challenges facing our city and plot a vision for a safer Indianapolis," said Mayor Joe Hogsett in a written statement. "I want to express my deep thanks to President [Vop] Osili, Leaders [Maggie] Lewis and [Brian] Mowery, and all councilors for their extensive collaboration throughout the past months in seeing these proposals into fruition."
Five sections—on community development grants, public purpose grants, crime prevention grants, the Marion County Public Defender Agency and the Information Services Agency—were separated from the main budget to help councilors who work at not-for-profits and in other industries avoid conflicts of interest. All passed unanimously, abstentions aside.
Councilors also approved operating and maintenance budgets, as well as tax levies, for Indianapolis' five municipal corporations. Some are set to incur large deficits.
About $430 million in appropriations will go to the Health and Hospital Corp., $400 million to the Indianapolis Airport Authority, $200 million to the Capital Improvement Board, $300 million to the Indianapolis Public Transportation Corp. (IndyGo) and $74 million to the Indianapolis-Marion County Public Library.
Councilors also updated a trio of special service district taxes to fund the Indianapolis Metropolitan Police Department (0.12%), the Indianapolis Fire Department (0.32%) and solid waste collection (0.1%). 
The budget and tax approvals come as Indianapolis wields a pandemic-era influx of federal money. The city received about $420 million through the American Rescue Plan Act and has already outlined several priorities.
The Hogsett administration is putting $150 million of the federal funds toward a $166 million violence-reduction initiative. Other American Rescue Plan funds were designated for rental assistance. Indianapolis originally received $33.5 million through that legislation, then successfully applied for another $91.4 million from Indiana's allocation.
The Hogsett administration separately plans to spend about $240 million in bonds on the Circle City Forward public facility and infrastructure projects.
"While we voted yes, there are several points of concern in this budget," City-County Council Minority Leader Brian Mowery said in a written statement. "A great deal of the funding for public safety comes from a one-time injection of federal money. If that money is used for long-term investments, like hiring more police, what happens when the one-time federal money is gone? Additionally, this administration continues to underfund infrastructure, one of the basic duties of local government. It seems the Democrat Council and Hogsett Administration's plan on infrastructure in Indianapolis is to wait for a bailout from the federal or state government. That is not leadership."
Please enable JavaScript to view this content.