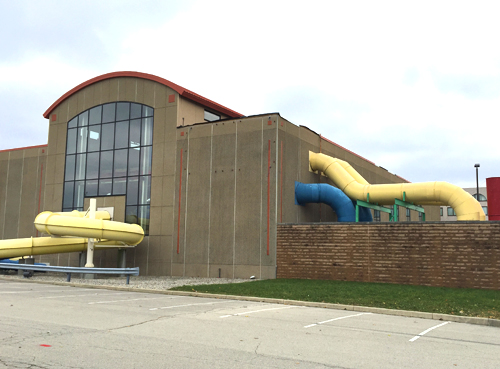 A once-popular hotel and water park on the northwest side has closed, along with the national chain restaurant located therein.
Caribbean Cove Hotel & Conference Center at 3850 DePauw Blvd. near Michigan Road and Interstate 65 shut its doors on Oct. 29, according to signs posted on the 10-acre property.
Tilted Kilt, which operated inside the hotel, also has closed. It stopped serving customers on Nov. 6, a sign on the restaurant's door said. Its phone number has been disconnected.
An entity of Houston-based Allied Hospitality Inc. in September 2011 bought Caribbean Cove from locally based General Hotels Corp. County assessor records show Allied paid $3.4 million for the property.
Calls to Allied seeking comment on the closing went unanswered.
Upon buying the hotel in 2011, Allied said it was "considering options with respect to rebranding and renovating the property." But the large water park, the main draw for the hotel, hasn't operated in months, according to several online reviews of the hotel.
General Hotels in 2004 added the 50,000-square-foot water park to boost weekend occupancy. But the company said upon the sale in 2011 that business had slipped over the years after other water parks opened in French Lick and Shipshewana, as well as in Cincinnati and Columbus, Ohio.
General Hotels had notified the state in 2011 that it was preparing to close the property if it couldn't find a buyer.
Tilted Kilt opened at Caribbean Cove in August 2014. Its exit followed the May closure of the chain's downtown location at 141 S. Meridian St.
Based in Tempe, Arizona, Tilted Kilt is known for its scantily clad servers who wear mini-kilts with matching bras and midriff-baring tops. Tilted Kilt has about 60 locations in 22 states and Canada, but none now in Indiana.
Allied in Houston owns and operates hotel properties under brands such as Hilton Garden, Clarion and Best Western. 
Please enable JavaScript to view this content.