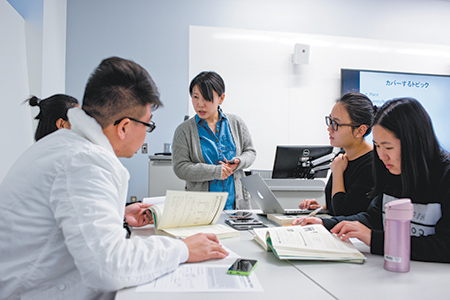 More than half a century ago, Indiana University President Herman B Wells championed the idea of expanding the university's mission to include a focus on global and international affairs.
Now, at a time the United States is embroiled in a debate over the future of foreign policy, IU says it is seeking to further Wells' mission in a modern era through its growing 5-year-old IU School of Global and International Studies.
Enrollment is rising at a critical time, said founding Dean Lee Feinstein.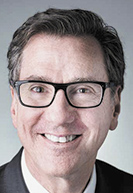 Feinstein
"The change that's taking place in the world is more profound than at any time since the end of World War II," Feinstein said. "We all feel things are changing rapidly. At the same time, there's a debate in the U.S. about what the U.S. role in the world ought to be."
Feinstein, a former U.S. ambassador to Poland under President Barack Obama, said the school's goal is "to understand what's happening around the world but also convey to our students and give them the tools to understand how important American engagement in the world is."
The school has impressive credentials. It's led by Feinstein, whose career includes more than two decades in high-level diplomatic and foreign-affairs positions. Former U.S. Rep. Lee Hamilton and former U.S. Sen Richard Lugar both work out of offices in the school and host events. And when the school opened its new building in 2015, then-Secretary of State John Kerry came to campus to dedicate it.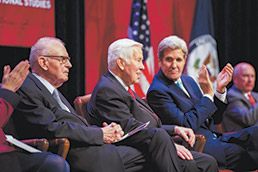 The IU School of Global and International Studies has attracted big personalities to campus, including then-Secretary of State John Kerry, right, with former U.S. Rep. Lee Hamilton, left, and former Sen. Richard Lugar. The former congressmen have offices at the school. (Photo courtesy of Indiana University School of Global and International Studies)
IU says its heavy investment in the school comes at a time colleges nationwide have de-emphasized international studies. The university has hired more than two dozen new faculty members and constructed the school's $53 million home in part with revenue from IU's Big Ten contract for televised sports. That's the largest-ever commitment from IU Athletics to support academics. The school also just secured a $5 million gift to launch the Tobias Center for Innovation in International Development.
"The thing that really got my attention was the investment IU was making in the field, in some ways against a national trend," Feinstein said.
Apparently, students are also taking notice. Enrollment at the school has grown 55 percent since its 2012 formation. Today, 631 undergraduates and 162 graduate students are enrolled, according to IU.
"Despite the really grim international news, or maybe because of it, we're really fortunate to see that our enrollments are growing," Feinstein said. "We are very excited and encouraged by that. It makes us one of the larger schools in the country and certainly one of the largest in the Midwest."
Hamilton, who represented southern Indiana in Congress from 1965 to 1999, said the school can't rest on its early enrollment success, and should concentrate on raising undergraduate numbers. Students "are keenly aware of the opportunities today" in an environment competing for their enrollment, he said.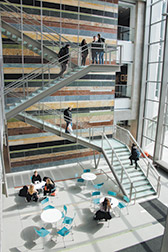 The school is housed in a new $53 million building on the Bloomington campus, paid for in part with IU's Big Ten athletics revenue. (Photo courtesy of Indiana University School of Global and International Studies)
"The key to expansion is to maintain and improve the quality of instruction," he said. "Students know a good teacher when they see one. They're a sophisticated bunch. The demand of the student drives the mission. That seems to be the way it ought to be."
The school is trying to establish degrees in the areas of cybersecurity and global governance to meet some of that demand, Feinstein said.
The school's faculty is also reacting by increasing research on a host of challenging international issues, such as Russian and Eastern European studies. This comes as the U.S.-Russia relationship has been additionally strained by the U.S. intelligence community's assessment that the country intentionally sowed discord in the United States during the 2016 presidential campaign.
"The IU program in Russian studies dates back to the early 1950s," Feinstein said. "This is of historical importance. Needless to say, Russia is having a big impact on the world in terms of its intervention in Ukraine, its annexation of Crimea, the domestic crackdown of openness in Russia, and obviously its efforts to interfere with U.S. elections. It's really critical, and it's increasingly difficult to do research work in Russia. This makes it more important to foster this kind of research."
Sarah Phillips, director of the Russian and East European Institute, said, "We've really seen bolstered interest in our program" as more students seek to understand Russia.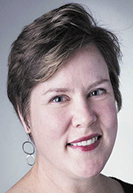 Phillips
IU is also interested in helping educate those outside the university, she said. For instance, the Carnegie Corporation of New York gave the school a $1 million grant to create a Russian Studies Workshop. According to IU, the grant came after a report by the Association for Slavic, East European and Eurasian Studies said Russia-related graduate training and research at U.S. institutions had declined—which the Carnegie Corp. sensed was unwise in light of current tensions, according to an IU press release.
The intent of programs like IU's is "to help promote understanding of the real, deep issues among the general public so that [people are] not only exposed to news bites in the national media, but their viewpoints can be informed by really solid analytical research that's being done in institutions like IU," Phillips said.
Beyond Russia, Feinstein said the school is seeking to "double down on our investment in Asia [studies] so we have one of the largest and most robust language programs," as well as study the history, politics, economics and security of the region.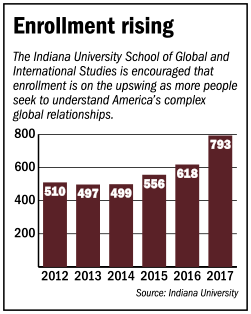 "The future of the U.S.-China relationship is going to be the most important relationship deciding the course of the century," he said. "That is important not only to the U.S. and China, but it has a big impact on Japan."
The school is also seeking to raise its state, national and international profile by hosting events that bring yet more prominent officials to campus. The main one is "America's Role in the World," which in the past has attracted speakers and attendees like U.S. Ambassador to the United Kingdom Matthew Barzun, Commanding General of U.S. Army Europe Mark Hertling, Gov. Eric Holcomb, South Bend Mayor Pete Buttigieg, and myriad researchers, journalists and other public officials.
Feinstein said IU feels strongly about analyzing Indiana's global relationships, too.
"We really see serving the state as integral to our mission," he said. "The Midwest has played a really important role in producing many of America's foreign policy leaders."
Of course, that includes Republican Lugar and Democrat Hamilton. But having them on campus also has the benefit of modeling bipartisanship, Feinstein said.
"Students of this generation really have no experience of bipartisanship in foreign policy," he said. "It's not within their memory. One of our high priorities is to demonstrate that people who come from different political backgrounds can nonetheless join together to identify ways forward even if they don't agree completely."•
Please enable JavaScript to view this content.