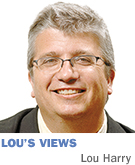 The season of Nutcrackers is upon us. Clara, Herr Drosselmeyer and the Mouse King will be packing theaters as dance companies around the country—including our own Gregory Hancock Dance Theatre and Butler Ballet—perform the holiday classic.
But no matter how many stage productions you've seen, it's a safe bet you've never seen "The Nutcracker" choreographed quite like it is at Newfields.
Newfields, the new umbrella moniker for the Indianapolis Museum of Art and its grounds, has thrown itself fully into the holiday attraction business with "Winterlights" (through Jan. 7), and the centerpiece of this electricity-plus-nature attraction is a magical light-and-sound interpretation of Tchaikovsky's music in front of the Lilly House. Here, what seems like a simple combination of trees, balls and ground lights dance to the glorious music, transforming the familiar into something festive and new.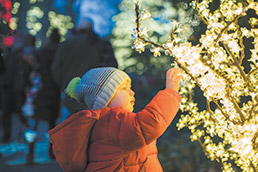 (Photo courtesy of Newfields)
Visitors to "Winterlights" check in at the IMA and then head out onto the grounds. The first "wow" moment comes early, as you approach the bridge. Here, the eye isn't just drawn to the lights that rise to the treetops in the immediate area, but also to those wrapped around trees near and far. The wide view is spectacular, but so is the micro: Look closely at some of the lights and many reveal themselves to be flower-shaped, giving miraculous bloom to otherwise barren branches.
Unlike the drive-through "Lights at the Brickyard," returning this year to the Indianapolis Motor Speedway, the Newfields electric fest avoids representation. You won't find lit versions of reindeer heading skyward or of Santa packing his sack. No manger or sugar-plum fairies. Except for some trees and snowflakes, most of the lighting here is non-representational. Instead of showing moments from oft-told stories, the lights here invite emotion.
And it works—although I was hoping it would extend into the gardens and to the greenhouse. Maybe next year.
Warming stations are placed throughout the property, but ducking into the Lilly House is also an option. The front door is now open (previously, visitors had to enter via the side), and a self-guided trek through the decorated rooms leads to a gift shop/rest room stop in the basement.
Strolling through "Winterlights," it's easy to think of yourself as being in a Lifetime holiday movie, set in one of those places where the town square is transformed for the holidays. A place where you wouldn't be surprised to find a couple of opposites suddenly attracted and engaging in a playful snowball fight.
Of course, in those TV fantasies, cities have seemingly unlimited budgets, allowing for free access. Newfields' stroll, if you buy tickets at the door, runs $25, $17 for ages 6-17, with a $5 discount for members. (If you order online, everyone gets a further $5 discount.) Hot chocolate and apple cider are available on the grounds in spiked ($9) and kid-friendly ($4) versions, along with cookies and nuts ($4). One of the outlying parking areas has been turned into a s'mores zone, with all-you-need kits available for sale ($9) as a benefit for local Girl Scout troops.
Attending on a members' night meant lots of social engagement among visitors, adding to the atmosphere and extending the time it takes to experience it all. On other, less-social evenings, I suspect a leisurely walk-through shouldn't take you more than an hour.
Unless, of course, Newfields is graced with some snowfall before the lights are packed up in January. In that case, two things could happen: Folks will shorten their trip to avoid the cold. Or the magic will be accentuated by the snow and the desire to linger—and have another hot chocolate—increased.
Artful snow angels? Why not?•
__________
This column appears weekly. Send information on upcoming arts and entertainment events to lharry@ibj.com.
Please enable JavaScript to view this content.