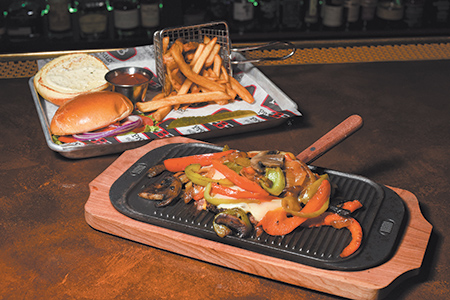 With walls bedecked with inspirational quotes and photos from the likes of Henry Ford, Walt Disney and Albert Einstein, Prodigy Burger & Bar (14490 Clay Terrace Blvd., 317-569-9996)—a conversion of the former Ted's Montana Grill at Clay Terrace—seems committed to the idea of self-improvement.
And with NFL Sunday Ticket broadcasts for sports fans, dueling pianos on Friday and Saturday nights, and additional live music sprinkled into its schedule, the attempt to create a neighborhood bar in this not-quite neighborhood is ambitious and welcome.
Here's hoping, then, that the newcomer takes some of its own advice. What's here now has promise but could use some improvement.
Adding another burger option to an outdoor mall that already includes Red Robin, Kona Grill and Mitchell's demands a certain level of differentiation. The twist here is that the Wagyu beef burgers are delivered to you still on a mini cast-iron griddle, sizzling like fajitas. I went with the one with the name in the title, the Prodigy Burger ($16), and the griddle proved a nice touch. I appreciated the option to pile as much hot caramelized onions, mushrooms, and red and green peppers as I liked onto the steaming hot burger and eat the excess toppings as a side dish.
Other Wagyu-on-the-griddle options include The Captain ($15), with pork belly and truffle mayo, and the 16th Masterpiece ($15), with 16 mushrooms and a playful name putting the burger in the company of Leonardo Da Vinci's 15 top works.
Arriving sans griddle from the standard burger side of the menu was the Mozart ($12), with blue cheese, fried onion straws and orange dill sauce making for an interesting mix. As with the others, a squeezable bun helped hold it all together.  
Beyond the burgers, our picks were a mix of hits and misses.
Cheesesteak Eggrolls ($10) sounded like an interesting twist but turned out to be just four open-ended shells not even half-filled with a mix of meat, Provolone and onion. The bites that did include all the elements were still dominated by the shell. Short Rib Mac and Shrimp Mac ($10 each) were both creamy and uncomplicated but with ample supplies of their non-pasta ingredients. Sided Fries ($3 if ordered separately) lacked flavor, a problem even more disappointing with the Duck Fat Pommes Frites ($5), which were nearly indistinguishable from their basic brethren.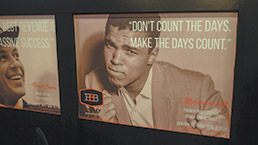 The walls of Prodigy Burger & Bar are lined with quotes—and misquotes—of the famous. (IBJ photo/Eric Learned)
On the short dessert menu, Prodigy Doughnut ($7) might well have been inspired by similar offerings at the Indiana State Fair. It brought together the traditional grab-and-go breakfast treat with a scoop of ice cream, which made for a non-traditional but appealing combo. I couldn't help but think, though, that it would have been even better if the doughnut had been of a Jack's or Long's caliber.
And, at the risk of seeming trivial, the walls could use a bit of fact-checking. "Pressure is something you feel when you don't know what you're doing," is attributed here to Peyton Manning. While it is a favorite quote of the quarterback, it originated with Steelers Coach Chuck Noll. Details matter.•
—Lou Harry
Please enable JavaScript to view this content.