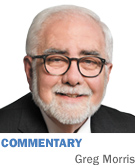 As you read this, I'm hopeful everyone is still basking in the glow from a wonderful Thanksgiving and enjoying quality time with family and friends. I'm feeling very thankful for the many blessings bestowed this year, and I wish that for all of you.

Many of us run hard most of the time, which on occasion tends to blind us to recognizing all the great things happening right under our noses. This is the perfect time to stop and think about the important people in our life and express our gratitude for all they do. And while hosting Thanksgiving for a large group can be overwhelming, the lasting memories created always make the effort worthwhile.

By this time, you've no doubt recovered from your food coma and, after eating all the leftovers, don't want to see anything that resembles turkey anytime soon. I'm with you. A juicy steak, Asian or maybe Italian sounds great right now.

Taking in some movies over the holiday is a tradition in my household. At this time of year, along with a new release or two at the theater, I tend to gravitate to the old standbys that accentuate the holidays. My all-time-favorite Thanksgiving movie is "Home for the Holidays."

The 1995 movie is directed by Jodie Foster and features an all-star cast. It's a hilarious, but touching movie about a highly dysfunctional family spending Thanksgiving together. It's the kind of movie you watch to remind you there are families out there a lot more dysfunctional than your own. You might love your family, but as this movie portrays, sometimes you might not like them very much.

One of my favorite scenes features Anne Bancroft, the matriarch, escaping the Thanksgiving dinner madness for a moment by retreating to the large kitchen pantry. Her daughter (Holly Hunter) finds her sitting in the pantry chain-smoking and asks what she's doing. Bancroft says, "I'm giving thanks that we don't have to go through this for another year, except we do, because those bastards went and put Christmas right in the middle, just to punish us."

In another favorite scene, the father (Charles Durning) gets the garden hose and sprays down his son (Robert Downey Jr.) and son-in-law (Steve Guttenberg) to break up a fight that started during a football game in the front yard. While holding the hose, Durning, looking at his neighbors who are all watching with judgmental stares from across the street, yells, "Go back to your own g#& d@*% holidays!" It doesn't matter how many times I watch this movie, it always makes me laugh—and I'm reminded that I have a "mostly" normal family, which is nice.

I hope you took some time to relax over the Thanksgiving holiday because there's still plenty of work to be done to close out the year strong and, at the same time, ensure you're positioned to win in 2018. Many of us are still knee-deep in budgeting for the upcoming year. But, we'd better be on the final leg of that process. We're burning daylight and time is short. And as experience has taught us over the years, it's best to get everything buttoned up in the next three weeks, because, after that, people start becoming scarce. The action most likely won't pick up again until the second week of January.

I'm hopeful your company or organization had a successful year and that you're looking forward to an even better 2018. For those of us who operate on a calendar-year basis, it's time to start again. Whether we had a good year or not, forget about it. With the turn of the calendar, we've all got a new opportunity to knock the cover off the ball. We've set our goals and objectives and it's time to execute. If we're innovative, start fast out of the gate and stay focused, we'll be celebrating our accomplishments together this time next year.

Thanks to everyone who contributed to IBJ's success this past year. We promise to work diligently to earn your continued business and support in the days ahead. Let's finish the year strong, enjoy the holidays, and come back to work ready to hit it hard in January. Thanks for reading IBJ and best wishes and good fortune to all!•

__________

This is an updated version of a previously published column.
Morris is publisher of IBJ. His column appears every other week. To comment on this column, send email to gmorris@ibj.com.