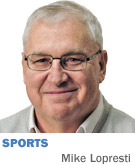 Here was the choice for the weekend. Fight the traffic at the shopping centers—whoever said retail stores are in trouble never had to find a parking spot at the Fashion Mall at Keystone—or sample a remarkably diverse three days of sports in central Indiana.

Easy call. For this was to be the weekend we found out ...

How far Purdue had really come in football.

How good Ben Davis really was.

How close the precocious Pacers were to being ready for prime time.

Whether, if all else failed, the Colts could still at least beat Tennessee in Indianapolis.

Let's get rolling.

Noon, Friday ...
See the crowd sitting comfortably in short sleeves? For the 34th year, the high school football community in this state can thank the sports gods for sending Indiana the Colts—who obligingly open the doors to RCA Dome and Lucas Oil Stadium.
1 p.m. ...

The star of Pioneer is doing his iron man act in the Class A football championship game. Jack Kiser plays quarterback and safety, punts, returns punts and kicks, and is on the kickoff cover team. Someone else sings the national anthem, though.
2:30 p.m. ...
Pioneer rolls 42-14. Kiser contributes 25 runs for 207 yards, six passes (all completed) for 111 more, three touchdowns scored (including once when the officials don't notice Eastern Greene has 12 men playing defense), two punt returns, six tackles made and a partridge in a pear tree.
3 p.m. ...
As Kiser walks down the field after getting his championship medal, it seems a good time to ask. Doesn't he ever get, like, a little tired? "That's a question that gets asked a lot," he answers, dismissing the very idea he ever needs a break. "He'll come up and try to get you if you tell him to get off the field," coach Adam Berry mentions. "It makes you nervous having to play him that many snaps, but he's a warrior."
Berry is a Pioneer alum whose wife delivered their third child a month ago, so you can imagine how much sleep he's gotten lately. "It's been a little rough," he says. "My wife's the cheerleading coach as well. Having a great family that loves the game just makes everything better."
Meanwhile, Pioneer lineman Garrett Schroder wins the mental attitude award and stands with his mother and father—a state trooper in uniform—while a taped congratulations from Chuck Pagano plays on the scoreboard.
3:30 p.m. ...
Out go the Pioneer and Eastern Greene crowds, in come Brebeuf and Evansville Memorial for Class 3A. Lucas Oil is something like an airplane terminal this holiday weekend.
6:05 p.m. ...
Memorial's defense provides five sacks and three interceptions and allows only 12 yards rushing as the Tigers win 29-17. It's been a big fall at that school; both the boys and girls won the soccer state championship.
7 p.m. ...
It takes a walk of 1,224 steps to get from the Peyton Manning statue at Lucas Oil to the entrance of Bankers Life Fieldhouse, where something is astir. The Pacers have gone from losing four in a row to winning four of five, and the offense is humming. They lead the league in 3-point shooting and are in the top five in a gaggle of categories, from assists to assist-turnover ratio to field goal shooting.
Paul who?
This weekend should tell us something. They're hosting Toronto and Boston back-to-back; the team tied for the second-best record in the Eastern Conference followed by the team with the most victories in the NBA.
7:55 p.m. ...
"O Canada." Whenever someone sings that song, doesn't it always seem like a hockey game is about to start?
8:20 p.m. ...

The Pacers can't be stopped in their new gold uniforms. In the first seven minutes, they score 25 points with five 3-pointers. It took Butler nearly 26 minutes to get to 25 against Texas at the PK80.

9:10 p.m. ...
It's the Amazing Cube Act at halftime. Which is a guy from Las Vegas twirling a giant cube over his head. You'd prefer dogs chasing Frisbees?
9:30 p.m. ...

Final from down the street at Lucas Oil Stadium in Class 5A: Columbus East over Kokomo of the North Central Conference 42-28, a win achieved mostly on foot as the winning Olympians throw only three passes. The NCC, whose current members have won 28 state basketball championships, still does not own a single football title.
10:25 p.m. ...

Here's yet another example of how these Pacers are anything but boring. They go up 13 on Toronto, fall behind 12, jump ahead 11, and then nearly blow all of that lead in the final four minutes. But they survive 107-104, thanks in no small part to four 3-pointers from Lance Stephenson, who is only in the game late because Victor Oladipo hurts his knee. Stephenson came into Friday 7-for-33 for the season from the arc. "I feel like everybody on this team has something to prove," Stephenson says. "They just want to win."

That's Indiana at the moment, somehow finding a way.

"We just don't know what we have with this group," coach Nate McMillan says. "They continue to play hard, they continue to show growth. We're still learning about our guys. Toronto was a heavyweight. We have another one coming in tomorrow."

Saturday, 11 a.m. ...
Rare sights abound at the Old Oaken Bucket. Purdue and Indiana both need to win to be bowl eligible (never happened before, not in 119 meetings). Ross-Ade Stadium is nearly full (been awhile for that). And the two teams lately have been playing lots of defense (this, by two former notorious sieves).
11:40 a.m. ...
It's Senior Day, and 16 Boilermakers are introduced. If they lose this day, they will come and go from West Lafayette without ever beating Indiana. "That would have been just awful," sophomore linebacker Markus Bailey will say a few hours later.

3:30 p.m. ...

Purdue's long nightmare is over. The Boilermakers hold on to win 31-24, and then several of them race to the Indiana sideline to find where the Hoosiers have stashed the Bucket. "We asked politely," linebacker Danny Ezechuku later says. Fans flood the field, taking selfies. The last time Purdue won this game, in 2012, selfies were not even in vogue.

"It's finally home," Ezechukwu says of the Bucket. "This is where it belongs."

Purdue coach Jeff Brohm is the man of the hour, and not only because a fake punt he called turned into gold. It took Darrell Hazell three years to get six wins at Purdue. It just took Brohm 12 games. And one try to beat Indiana. "I knew it was a big game," he says of the Bucket. "But not this big." He has lit a fire beneath the Boilermakers. Not good news in Bloomington.
6:30 p.m. ...

Brad Stevens meets the media before the Pacers-Celtics game. He looks as if he's aged since leaving Butler ... by about 20 minutes.

He likes what he's seen from the Pacers. "They're fantastic, the way that they're playing, the way that they're getting up the floor, the transition numbers, the shooting numbers, the overall offensive numbers. They're putting a lot of pressure on people. They're a threat on every possession.

7 p.m. ...

It's been a dramatic day at Lucas Oil Stadium, Southridge and East Central winning the 2A and 4A championships with late touchdowns. Now comes the main event—the 6A showdown between mighty Ben Davis and the Penn defense that has allowed only 10 points in four tournament games.

A Penn title would make a swell story with its Yeoman family affair. Head coach Cory Yeoman's staff includes two brothers, a son and a nephew, and one of the linebackers is another nephew. His defense also includes Notre Dame recruit Paul Moala and an end with a first name of Rockne. The stars seem aligned.

But then the game starts. Ben Davis scores 28 points in the first seven minutes, 49 by halftime. The Giants are frightening, not to mention in full control. Time to head back to Bankers Life to see how the Pacers are doing.

9:10 p.m. ...

Oladipo and his bruised knee are in street clothes, but the Pacers push to a 54-45 halftime lead. My, would this be a plum of a victory.

9:40 p.m. ...

Never mind. The Celtics find their rhythm and score 37 points in the third quarter, looking every bit a team about to be 18-3.

Meanwhile, the Ben Davis touchdown tour de force ends over at Lucas Oil 63-14, with six scoring passes from Reese Taylor. Penn had allowed 69 points in 13 games—and 63 in three quarters against the Giants. Ben Davis has sent a message that will echo in the history books of Indiana high school football.

10:30 p.m. ...

The Pacers are left to put the 108-98 beating by Boston in perspective. It has been a Celtics clinic, while the Indiana offense that has been so entertaining hit a wall.

"It's one game. It's a learning lesson," Darren Collison says. "We've just got to learn from them and go forward."

McMillan concurs. "That team showed us tonight that there's another level in the NBA that you have to get to. ... We're trying to get there."
Noon, Sunday ...

The Colts vs. Tennessee—with the Lucas Oil roof open? Talk about your trick plays, a lot of patrons probably show up under-dressed. There have been days the roof was closed that would have been good at the beach. Maybe the Colts are trying to hype sweatshirt sales at the team shop, or change their karma.

4 p.m. ...

It doesn't work. For the fourth time this year, the Colts lose a game after leading by double digits in the second half, this time 20-16. They're 3-8, and had they just managed to hold onto those leads, they'd be 7-4 and talking playoffs. The season has turned into Groundhog Day. "I don't have a word for it," Jack Doyle says. It's Darius Butler who calls it, "Kind of the same song, over and over."

There are plenty of empty seats at kickoff, and rows of them by the fourth quarter, even with a close score. Apparently, the fans have tired of the plot. The Colts are in a deadly gray that breeds angst and frustration; good enough to get leads, not good enough to hold them.

So the long Thanksgiving weekend ends, having been good, bad or ugly—depending upon uniform color. Here comes Duke, to play at IU Wednesday. Ohio State and Wisconsin will be in town for the Big Ten football championship Saturday. Indiana's sports wheel keeps turning round.