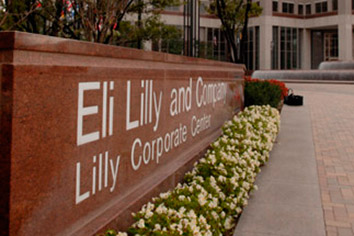 Eli Lilly and Co. engaged in a multi-tiered kickback scheme for at least a decade to pump up sales of diabetes and osteoporosis drugs to doctors, the federal government charges in a recently unsealed civil lawsuit.
The Indianapolis-based drugmaker is accused of working with several other companies over the past decade to provide free nursing services to physicians, who induced them to prescribe Lilly drugs.
The nurses' job was to educate patients on how to manage their diseases, but they acted as undercover sales representatives, pushing patients and doctors toward Lilly products, a practice often called "white coat marketing," the lawsuit said.
The Lilly drugs in question were insulins Humalog and Humulin, and osteoporosis drug Forteo. Those three medicines are among Lilly's top-selling products, accounting for a combined $5.6 billion in sales last year, or about 27 percent of Lilly's revenues.
The behavior amounted to kickbacks and violated the federal Fair Claims Act, causing government programs "to pay billions of dollars in improper reimbursements," the lawsuit said.
The suit was filed in June in U.S. District Court in Texarkana, Texas, and was unsealed Oct. 31.
Express Scripts, parent of another defendant, United Biosource Corp., disclosed the lawsuit in a government filing on Nov. 14. Lilly has not yet disclosed the lawsuit.
"We believe this lawsuit is without merit and are prepared to defend against it vigorously," Lilly spokesman Mark Taylor said in an email Thursday to IBJ. He declined to discuss specific allegations.
According to the lawsuit, Lilly worked with four other companies to engage in several unlawful "marketing schemes."
Under one arrangement, Lilly offered free nurse-education and patient-management services, using nurses provided by two companies, Healthstar Communications of Mahwah, New Jersey, and VMS BioMarketing, based in Indianapolis.
According to the lawsuit, the nurse educators were trained by Lilly to encourage doctors to "off-load their patients" to the nurse educators to manage their diseases, freeing up the doctors to see other patients and increase profits.
The diabetes sessions between nurses and patients included information on diet, exercise and the administration of Humulin and Humalog, the Lilly insulins. The osteoporosis sessions included information on how to inject Forteo, the lawsuit said.
"The nurse educators were effectively free employees" given to doctors in exchange for the doctors' commitment to recommend Lilly products, according to the lawsuit.
Healthstar officials could not be reached for comment. Abigail Mallon, senior vice president for innovation at VMS, which provides clinical educators to clients, said she could not comment on pending litigation.
Under another arrangement, Lilly sales reps offered doctors free reimbursement support services—such as patient insurance benefit verification services, prior authorization services and appeals coverage"—if they wrote prescriptions for Lilly drugs.
"Support services have a great value to prescribers because they reduce, and in some instances eliminate, the administrative costs associated with prescribing drugs," the suit said.
The lawsuit said Lilly worked with several other companies to provide the support services, including Covance Inc. and UBC, the Express Scripts unit.
The government is seeking unspecified restitution and damages.
The federal anti-kickback law prohibits companies from offering any "remuneration," which includes any kickback, bribe or rebate, as an inducement to purchase or recommend a drug or service that is covered by Medicare or Medicaid.
"Defendants disregarded the law, choosing instead to put sales growth and profits before their duties to comply with the law and ensure patient safety and integrity in the healthcare marketplace," the lawsuit said. "Tens of thousands of patients were prescribed the [Lilly products] not based on clinical efficacy or patient-specific information, but rather as a result of the unlawful, substantial kickbacks Lilly offered prescribers."
Please enable JavaScript to view this content.