It's easy to forget you are terrible at golf when you're swinging clubs at TopGolf (9200 E. 116th St., Fishers, 765-212-3488), the new entertainment complex across the street from Ikea.

Consider how golf is played on an actual course.

You—OK, I—hit a ball.

It goes where I don't want it to go.

I find it, hit it again. And it goes to another place I don't want it to go. And so on.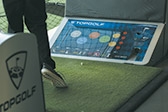 TopGolf uses amenities including electronic scoring, food and drink service to make golf more social. (IBJ photos/Eric Learned)
TopGolf, developed in the U.K. but now with more than 40 U.S. locations, offers something different for us rusty returnees to the sport: a chance to play without consequences. Here, there's no humiliating search in the woods. No pathetic plea to your friends to go ahead and putt through while you're still trying to move your ball up the fairway.

And for those who actually come to TopGolf with skills intact, the sprawling complex provides a unique place to hone your game.

What's more, the rookie and the PGA tour pro can play together without diminishing each other's pleasure.

Here's how it works: At TopGolf, instead of a clean, green fairway with a flag out there in the distance, an array of pits punctuates the netted-in landscape. Each of these pits has a flagged hole at its center, but each also has rings of additional scoring opportunities. Thus, you can swing for the 240-yard one, slice wildly, and still score some points by landing the ball near that 20-yard hole over on the right.

Score points? Yes, thanks to the electronic miracle that registers each ball's final resting place. How it does that involves chips and sensors. I don't quite understand it—I'm just glad such technology is being used for good and not for evil.

On a screen in each bay, you can pick what sort of game you want to play. A simple game involves just scoring points that combine distance and accuracy—in other words, hit and pray. Seasoned golfers can choose from more challenging options in which specific holes must be targeted in order to score.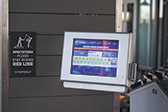 In a sense, TopGolf brings the golfing experience closer to the bowling experience. After checking in, you and your party occupy a comfy climate-controlled bay where complimentary clubs are available, balls pop out of a hole when you need them, and food and beverage service is at your fingertips. (See Dining sidebar.)

One key difference from your neighborhood bowling alley: At TopGolf, if you step too far over the line, you don't score a penalty. Instead, you fall into netting and then have to crawl out, much to the amusement of those playing in other bays.

No one accidentally took a dive on my recent visit. Or at all since this TopGolf outpost opened. Although a member of the waitstaff told me she witnessed one player willingly jump into the net, a move strongly discouraged by management.

After two hours, my sore-armed party was already looking forward to going back. Over that time, I did manage to clock a few balls and—thanks to the computer set-up—others in my foursome didn't have to take my word for it. The yardage was right there, on the monitor.

The cost depends on when you go. First, you have to make a one-time, $5 purchase of a player card, which lets the technology know who's hitting what balls. In addition, if you play before noon, an hour runs $25—that's not per person, it's per bay, which can accommodate up to six people. Up to 5 p.m., it's $35, with evenings bumping to $45. Reservations are not accepted, unless you purchase a $50 VIP Priority Pass, which has rules too involved to get into here.

Yes, it's a bit more expensive than a bucket of balls at a regular driving range. And I can't say my TopGolf experience improved my game in any way.

But feel free to shoot me a note if, one morning, you happen to have an extra spot in your foursome or sextet. I'm happy to pay my share of $25 for an hour or two of fun.•

—Lou Harry