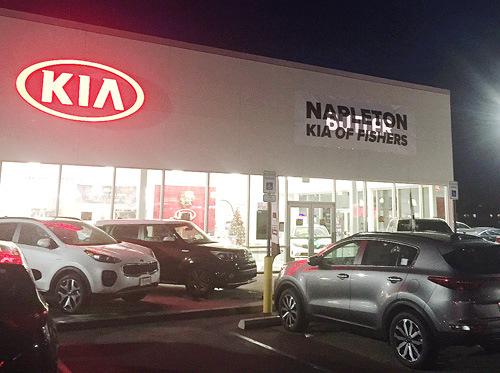 Most of Butler Auto Group's Indianapolis-area dealerships have been sold to one of the nation's largest dealership groups.
The Ed Napleton Automotive Group, based in the Chicago suburb of Oakbrook Terrace, Illinois, has acquired Butler's Hyundai, Fiat, Maserati and Alfa Romeo dealerships in Indianapolis, along with its Kia dealerships in Fishers and Carmel.
Butler, which has been one of the city's leading car sellers for decades, now has just one remaining dealership: Butler Toyota, which it opened in 1978. 
The acquisition quietly took place, Oct. 3. The former Butler dealerships now carry the Napleton name, according to each store's web site. The dealerships have recently been changing signage at each location.
Financial terms of the deal were not announced.
Robert G. Butler, who has been operating car dealerships in Indianapolis under the Butler name since 1966, said he intends to hang on to the Toyota dealership at 3232 Harper Road, near Interstate 465 and North Keystone Avenue.
"This was not part of the sale," said Butler of the Toyota dealership. "We don't have any intent of going anywhere."
Butler said his son, Robert A. Butler, owned the other dealerships and was the one who decided to sell them to Napleton. He referred further questions to his son.
IBJ was unable to reach Robert A. Butler for comment Tuesday morning.
Ed Napleton Automotive Group, founded in 1931, has more than 70 franchises and 40 dealerships in seven states: Illinois, Indiana, Florida, Pennsylvania, Missouri, Georgia and Wisconsin. Napleton dealerships sold a combined 23,959 new vehicles in 2016, making the company the 38th largest dealer in the country based on new-car sales, according to Automotive News.
"We've been hoping to find a foothold in Indianapolis for a long time," said Brian Napleton, director of Midwest operations for Ed Napleton Automotive Group.
Napleton declined to say how much Ed Napleton Automotive Group paid for the Butler dealerships, but said the properties were attractive for a few different reasons.
The company has several other Hyundai and Kia dealerships around the country and likes the brands, he said. The Carmel-area locations of many of the Butler dealerships were also a draw.
The chance to buy several dealerships at one time was appealing, as well, Napleton said. For efficiency and brand-building, he said, it's easier to enter a new market if you start out with multiple dealerships.
Automotive News said the Napleton company had revenue of $1.6 billion last year when including all of its operations—new, used, fleet and wholesale sales, as well as parts and service.
"Ed Napleton Auto Group is committed to keeping every (Butler) employee and increasing the community involvement and charitable efforts around the Indianapolis area," the company said in a statement on its web site.
Butler Auto Group ranked as the city's top auto dealer as little as a decade ago. In 2008, according to the latest sales figures reported to IBJ, the company sold 2,817 new vehicles and 3,885 used vehicles, while leasing another 818 cars or trucks. It reported total sales that year of $171 million.
Please enable JavaScript to view this content.