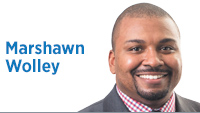 Men have to be better allies against sexual harassment. The Equal Employment Opportunity Commission reports that, in fiscal year 2016, roughly 12,860 claims for sexual harassment were filed, with only 16.6 percent filed by men.
Given our current national discussion, it seems reasonable to assume that sexual harassment in the workplace is severely underreported in many sectors of the workforce. Available data also seems to suggest that perpetrators of sexual harassment against either sex are more likely to be men. That just over 50 percent of claims from 2010 to 2016 have resulted in an EEOC finding of "no reasonable cause" also seems surprising and perhaps disheartening. Our national conversation, which right now seems to be led by news personalities rather than current political leadership, is missing some important voices.
We are finally hearing the voices of women. We are also hearing some men apologize and shrink out of public view. There have also been some infamous denials by elected leaders and political candidates. Colleagues are reportedly voicing either relief or surprise at the allegations of workplace behavior by well-known and powerful men. There is also the difficulty of reconciling public versus private behavior.
Last month, my Forefront colleague, Mary Beth Schneider, rightly argued that women need to get mad. She spoke to the power dynamics involved in silencing women in the workplace. She also advocated for more women in leadership roles in politics and business. I wholeheartedly agree and look forward to voting for women on the ballot next May and November.
I'm also rooting for the shattering of professional glass ceilings. In 2013, women made up 53.2 percent of workers in professional careers. The EEOC reports that, while women made up the majority of the labor force in 2013, they still accounted for only 38.6 percent of manager and senior executive positions in the professions. Barriers still exist, but with continued shifts in family structures and gender roles, I anticipate having more women bosses. In my professional career, my boss has more often than not been a woman.
Schneider also called for women to speak up, and we will see if they continue to do so.
Despite the voices of Schneider and others, our national dialogue seems off in some ways. First, the president of the United States isn't leading it. In fact, in many ways, he represents the problem. Powerful men have themselves indicted institutions like the media, government and entertainment as places that tolerated, suppressed or somehow missed systematic behavior.
While we know sexual harassment is wrong, we aren't really talking about the responsibility men have right now to address the issue. To be fair, Vice President Mike Pence has a policy about not being alone with women that to some seemed wise—perhaps even prescient. The reality is that the Pence rule is flat out sexist. It reduces heterosexual interactions as latent with the potential for a sexual tryst—which is just ridiculous on its face. It also ostensibly guards against false accusation—an unnecessary pre-emption unless you generally doubt the veracity of claims about sexual harassment.
So what is our responsibility as men?
At the policy level, zero-tolerance sexual-harassment policies are only as good as the reporting and complaint-review process. Men set the tone for acceptable norms for talking and thinking about women in the workplace, especially among other men. Men have to get mad and police ourselves within our own circles for the sake of our colleagues and ourselves.•
Click here for more Forefront columns.
__________
Wolley is a lecturer at the School of Public and Environmental Affairs at IUPUI.Send comments to ibjedit@ibj.com.
Please enable JavaScript to view this content.