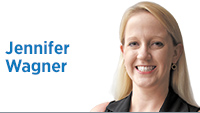 Someone recently told me it seemed like I was carrying around a lot of anger, just below the surface where it's only visible if you know to look for it. But it's there, ready to bubble up at any moment, triggered by little things that are reminders of big things.
She was right, and I needed an outsider to sound the alarm.
Among the causes of distress: I'm angry about the rash of men behaving badly toward women in the workplace—and the length of time it's taken for those stories to become public. I'm angry that our president thinks it's OK to tweet personal attacks and retweet hateful videos that promote—nay, celebrate!—religious intolerance.
On any given day, I'm as ticked off at my own political party as I am at those on the other side for fighting more than getting things done. And I'm consistently angry at myself because, like all humans, I fall short personally and professionally and want to overcome those failures.
So, if any of you have the name of a good therapist, I'm all ears. In the meantime, I suspect some of you are having the same feelings, which leaves us with the question of what to do about all that anger.
As we head into 2018, with its new legislative session and a marquee U.S. Senate race, there's a lot more potential for divisiveness than for peace in the kingdom. But I'm nonetheless going to make some suggestions that might make everyone feel a little better.
• Quit complaining, and go do something. I'm not talking about going to a political fundraiser or rally. Go do something that actually matters. Volunteer at a food bank or clean up a neighborhood or read to kids at a local school. Make a difference, and make that difference away from the partisan sideshow.
• Make new friends but keep the old. Hanging out with people who think the exact same way you do will only cause your anger bubble to swell. I'll admit there are plenty of folks out there whose way of thinking I struggle to understand, and I'm probably not going to be besties with them, but find some people who don't agree with you on big, important issues. Find out why. Explain to them why you feel the way you do. Rinse and repeat. Oh, and if you're able, take those conversations offline. Ain't nothing good happening on social media these days.
• Look at the mirror, for heaven's sake. If you're reading this publication, chances are pretty good you're doing just fine. There are doubtless goals you'd like to reach, things you'd like to have, financial and professional milestones you've yet to accomplish. But a lot of people out there aren't where you are. So the next time you go to whine about not being able to buy alcohol at a retail outlet on a Sunday (yes, I agree that's dumb), consider that your life problems might be a little less critical than those who are out of work or unable to finish their schooling or trying to face down an addiction. Go back up to my first suggestion and find something you can do to help them.
As the year comes to an end, here's the biggest positive of all: We're going to make it. Our Founding Fathers might be wringing their hands on the other side, but their great American experiment was built to survive a dumpster-fire presidency. There are courts—of law and public opinion—to deal with men behaving badly. And we're designed as humans to constantly reinvent ourselves based on our past mistakes and future aspirations.
So let's all take a deep breath, take some positive steps to help the world around us, and watch that anger fade away.•
Click here for more Forefront columns.
__________
Wagner is a lifelong Indianapolis resident and vice president of communications at EdChoice. Send comments to [email protected]
Please enable JavaScript to view this content.