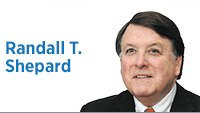 It is painful to contemplate. Something like 175 Americans a day die from drug overdoses. Last year, more of our fellow citizens died from drug abuse than died in Vietnam.
Indiana's own challenge is considerable. We record more opioid prescriptions each year than we have people, about 109 prescriptions per 100 residents. We have plenty of company. States like Ohio, Michigan, Kentucky and Tennessee have similar numbers or worse. Hoosiers are more likely to die from a drug overdose than from an auto accident.
Gov. Eric Holcomb has declared that dealing with this human tragedy must be an urgent priority for state government. He has moved to make it a central part of his own administration.
A powerful initiative launched last month when Indiana University President Michael McRobbie, standing alongside Gov. Holcomb and Indiana University Health's Dennis Murphy, announced that the university would undertake a $50 million effort called Responding to the Addictions Crisis.
Led by the dean of the IU School of Nursing, this campaign will ramp up training for health professionals, expand the number of addiction professionals, build new databases to help local officials deal with the problem, and initiate research aimed at making all these efforts more effective.
While much of the work will benefit from university faculty and staff in fields like medicine and health, the legal profession has a substantial role to play.
The IU McKinney School of Law has long had particular strength in health-related subjects. Its Hall Center for Health Law was recently named a top 10 program for health law in the country.
The Hall Center has already been focusing on opioids. The current issue of its Health Law Review features a remarkable student note by recent graduate Nick J. Erickson analyzing substance abuse treatment programs in Indiana's correctional facilities and suggesting avenues for improvement and further analysis.
Last month, the center sponsored a lecture by Northeastern University professor Leo Beletsky, who's nationally known for evaluating the role of public health programs in combating abuse and comparing those approaches to existing law enforcement practices. It drew a full house.
The center's executive director, professor Nicolas Terry, will be part of the leadership team for Responding to the Addiction Crisis. Given the solid work of the center and the leadership of the university's vice president for research, law professor Fred Cate, it seems plain that the university expects law faculty and students will add value to examining options and implementing new approaches.
Of course, drug addiction has been a point of focus for those in the bench and bar and law enforcement. An overdose event usually lands first on their doorstep. Law enforcement officers outnumber medical personnel as first responders by a margin of 3-to-1. And the criminal justice system has long been the point of early contact for dealing with addicts, users and dealers.
Indiana operates more than 80 specialized drug courts and problem-solving courts, and the nation's second-largest child advocacy program. Chief Justice Loretta Rush has accelerated court efforts to deal more effectively with the epidemic. Early in the year, she signed Indiana on to a regional initiative created by six Midwestern and mid-South court systems to share data, expand education for various actors in the criminal justice system, and create pilot programs in targeted sites along state borders.
In the fall, Rush agreed to co-chair a national task force for the Conference of Chief Justices and the National Center for State Courts. Its objective will be to identify unmet needs, share new strategies, and address the impact of the opioid crisis on children.
Given the scope of what we face on opioids, we should applaud Indiana leaders for these energetic actions.•
Click here for more Forefront columns.
__________
Shepard, formerly Indiana chief justice, now serves as senior judge and teaches law. Send comments to ibjedit@ibj.com.
Please enable JavaScript to view this content.