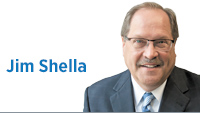 Sex and politics. They go together. It's bipartisan.
Roy Moore, John Conyers, Al Franken, Bill Clinton, Donald Trump … you get it.
The revelations are not just at the national level. Two Minnesota legislators resigned recently after accusations that they were involved in sexual improprieties. And so, it is no surprise that political insiders here wonder if news of bad behavior in the Indiana Statehouse might soon surface.
I have no breaking developments on that score (couldn't help myself there), but I will share that, for decades, I have threatened to write a tell-all book about sex in the Statehouse.
It would be titled: "Mary wouldn't, but look who did."
The title comes from the sex scandal in the Hoosier Lottery in 1989. Human Resources Director Mary Cartwright accused Lottery Director Jack Crawford of sexual harassment. He was fired after an investigation produced documents showing that Cartwright and Crawford had sex in hotels in three cities, a walk-in closet at his house, the car at lunch, and elsewhere. But during the brief time the lottery had an office at the Statehouse, Cartwright rejected his advances because, she said, "It's the Statehouse!"
Well, Mary wouldn't, but look who did.
That's my foreword. The chapters would detail sexual episodes that are legend among longtime Statehouse insiders.
There is the tale of a pair of staffers who decades ago consorted on the large state seal woven into the carpet in the governor's office. That would appear to be the Statehouse equivalent of the Mile-High Club. I have been told about a candidate for governor who won a key endorsement from a party leader. It was delivered only after the candidate agreed the party leader could entertain his girlfriend on that same state seal in the carpet.
(The candidate lost and therefore never had to deliver on the promise.)
Another chapter might be devoted to sex in those out-of-the-way committee rooms that are vacant much of the year. A custodian walked in on a romantic moment between a lawmaker and lobbyist years ago and the story spread through the building like wildfire.
Less known is an episode when a staffer (with interns in tow) was looking for a committee room where he could conduct an informal meeting. He opened a door and encountered two custodians in a clutch. He stopped abruptly, and interns ran into the back of him. Cleanup in Room 401!
Then there's the lawmaker who had an office with an outside window that faced the Hyatt Regency hotel. He would invite friends to set up a telescope in the hotel and view his conquests from across the street.
Those are just highlights, as I don't have enough space to share all the stories here.
Except for the lottery scandal, they all involve consensual behavior, as far as I know, and that's why I have concealed the identities of those involved.
The Cartwright/Crawford affair started out to be consensual before it changed.
Political power leads the people who hold it, and sometimes the people around them, to make bad decisions. Don't be surprised the next time scandal surfaces.
Now as for sex and TV news, that's a column for another day.•
Click here for more Forefront columns.
__________
Shella hosted WFYI's "Indiana Week in Review" for 25 years and covered Indiana politics for WISH-TV for more than three decades. Send comments to ibjedit@ibj.com.
Please enable JavaScript to view this content.