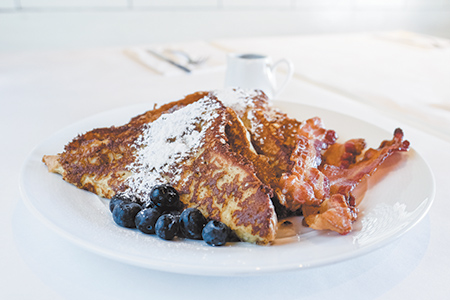 Breakfast is the most important meal of the day. We've all heard that line.
Unfortunately, the morning dash to work or school often means just a grab-and-go that primarily benefits doughnut shops and Kellogg's.
But a good breakfast—it doesn't even have to be a great breakfast—can make your day. Even if that breakfast is loaded with carbs and covered with syrup. Of course, it helps if the price is right.
The recent opening of two local breakfast-focused eateries gives us a pair of new reasons to share the early meal with business associates, family or friends—or to enjoy some quality alone time before diving into your day.
To the north, there's Rad's (4733 E. 126th St., Carmel, 317-740-0129). While the name might suggest otherwise, the place is far from radical. It's cozy, unintimidating, and the kind of place that might succeed where more ambitious places haven't. The key is getting the locals to make it a habit. And I can see Rad's becoming a comfortable alternative to chains, thanks to its skill with breakfast staples and touches that indicate someone in the kitchen is thinking.
Biscuits and Gravy ($9.50), for instance, is about as traditional as you can get. But with scratch biscuits and a pork belly sausage generously mixed in with scrambled eggs and hash browns, it won me over. For the price, I could have used an extra slice or two of the not overly thick Challah French Toast ($9), which comes partnered with a choice of meat. But, again, it felt both hearty and honest without being boilerplate.
An order of Buttermilk Pancakes ($8.50) gets you two tannish-brown orbs big enough to fill a plate. They arrived hot, dusted with powdered sugar and topped with a healthy (or, I guess, not-so-healthy) dollop of butter melting on top. Sharing the plate with bacon, pork sausage, turkey sausage or, in our case, thin slices of grilled ham, the thick cakes yield nicely to a fork, proving themselves to be of the firm-and-weighty variety rather than the thin-and-lightweight. Forking up bites with the plump blueberries scattered around the plate allowed for bonus bursts of flavor and the opportunity to rationalize that something healthy might be going on.
Thinly sliced ham served on the side came off as a little dry, but, when layered onto a bite of pancake and syrup, it offered a savory spot in an otherwise sticky-sweet mouthful. 
In addition to breakfast choices (served all day), Rad's also has a short slate of sandwiches and salads. If you go that route, take my advice and start with a bowl of Ham and Bean Soup ($4.50), one of the most satisfying takes on that basic combo I've had in years.
Good coffee, too. Rad's logo, which reads "Coffee Breakfast Lunch," sends a clear message that lingering over an extra cup is just fine.
In Irvington, Batters Family Pancake House (5543 E. Washington St., 317-602-2925) has taken over the spot formerly occupied by Bitter Sweet and Your Local Deli and Market. Here's hoping for a longer life for this loosely themed baseball-meets-breakfast spot.
You don't expect St. Elmo-quality meat from a breakfast joint's Country Fried Steak platter ($9). What you do expect—and what you get here—is good texture and dominant gravy. Here, it comes sided with two eggs and hash browns or fruit, toast or pancake.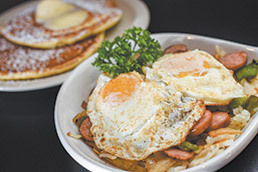 The Sandlot Skillet at Batters Family Pancake House in Irvington has discs of Polish sausage, hash browns, onion, green pepper and eggs. (IBJ photo/Eric Learned)
Big League Skillets aren't all that big, but for the price, there's plenty. I tried the Sandlot ($8), with discs of Polish sausage, hash browns, onion, green pepper and eggs. Not a stellar example of the genre, but when you consider that it comes with a side item and that side item can be two delicious, thick, fluffy pancakes, it comes out a win.
Get out of bed too late? You can order breakfast here at all hours, but Batters also serves up charbroiled Burgers ($6 to $8), Paninis ($8) and other sandwiches, including Fried Bologna ($7), Italian Beef ($7) and the uncomfortably vague Fish ($7).
Minor complaint: While I was pleased that Batters didn't keep TVs on or blast music, someone (OK, I'll do it) should tell the waitstaff and kitchen crew that every word they say can be heard over the partial wall.•
Please enable JavaScript to view this content.