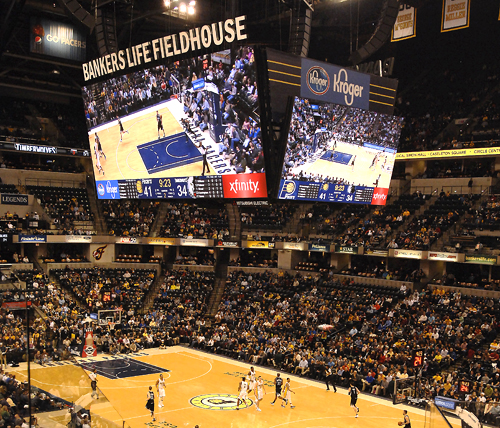 Indianapolis will host the 2021 NBA All-Star Game, a source confirmed to IBJ.
Pacers Sports & Entertainment officials are expected to officially announce the game later Wednesday, more than seven months after former team executive Larry Bird delivered the team's bid for the game by driving a retro-fitted IndyCar on 5th Avenue in New York.
The game is a huge win for the city, economic development officials say.
According to host city officials and the NBA, the All-Star Game weekend had an $85 million economic impact in Los Angeles in 2011, $95 million in Orlando in 2012, just more than $100 million in Houston in 2013 and $106 million in Orlando in 2014.
The event's economic impact soared to more than $150 million in New York in 2015 before returning to Earth at about $110 million in Toronto last year and $100 million in New Orleans this year.
The Indianapolis game will be held at the 18,165-seat Bankers Life Fieldhouse. Officials involved with the bid also had considered Lucas Oil Stadium, which seats more than 70,000.
The ancillary events—such as the celebrity game, D-League All-Star Game and slam dunk and three-point shooting contests—will be held in Lucas Oil Stadium, which will use the half-stadium configuration that NCAA regional games have used in the past. It typically can seat up to 45,000 spectators.
The NBA All-Star Game was held one other time in Indianapolis, at the RCA Dome in 1985.
In addition to the globally televised All-Star Game, there are numerous glitzy parties—some black tie—over the weekend in the host city.
Indiana Sports Corp. President Ryan Vaughn told IBJ this spring that the All-Star Game would likely require 3,000 volunteers—similar to the number needed for an NCAA men's Final Four—and would require forming a local organizing committee two to three years out.
The Pacers are expected to formally announce Indianapolis' selection as host for the 2021 game at a 4 p.m. press conference at Bankers Life Fieldhouse. Those scheduled to attend include NBA Commissioner Adam Silver, Pacers owner Herb Simon, Gov. Eric Holcomb and Indianapolis Mayor Joe Hogsett.
Please enable JavaScript to view this content.