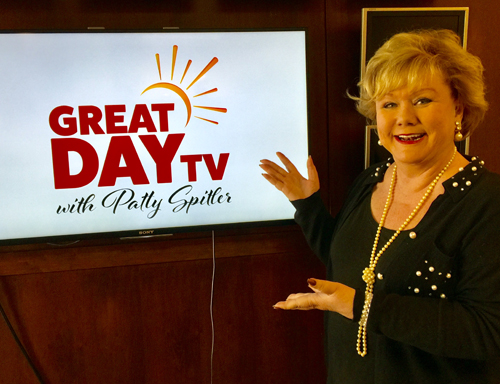 "Boomer TV," like many in the baby boomer generation for which the show was named, has retired.
But the show's founder and host, Patty Spitler, isn't one of those boomers scaling back her work schedule. 
Instead, the former WISH-TV Channel 8 news reporter and anchor has launched a new show—"Great Day TV." She thinks the new show will have a broader appeal among viewers and advertisers.
"What we found with 'Boomer TV' was that we were limiting our audience," said Spitler, who started 'Boomer TV' in March 2015. "People would tell us, 'I would love to watch, but I'm not a baby boomer.' We want people to know, we welcome all. A good story is a good story." 
"Great Day TV" will cover a range of topics, Spitler said, including some issues baby boomers will be very much interested in. On her new show, Spitler plans to have segments on cooking and wine, gardening, health care and entertainment, in addition to stories about interesting people, places and activities around town.
Spitler also produces "Pet Pals TV," which has been on the air for eight years. Both shows air Sunday mornings on Channel 8.
"Great Day TV," which aired its first episode Nov. 26, is occupying the same 30-minute time slot as "Boomer TV" did. The show will air each Sunday at 10:30 a.m., right after "Pet Pals TV," which airs at 10 a.m.
The reception for the new show, Spitler said, "has been very, very good."
"Our two shows are the only two local shows on Sundays from 10 a.m. to 11 a.m., and people here have really embraced them," Spitler said. 
Ratings of the first two episodes of "Great Day TV" are more than 17 percent higher than the were for "Boomer TV," according to New York-based Nielsen Media Research. "Great Day TV" is being watched, on average, by about 17,000 central Indiana households. 
Spitler is confident that as the new show takes root, viewership will grow.
"We're just getting started with this show," Spitler said. "We're going to cover a lot of positive and fun topics of interest to all ages and feature a lot of different people. Most importantly, we're going to tell a lot of great stories."
Advertisers for "Great Day TV" include Hendricks Regional Health, American Senior Communities, Whisper Hearing Centers, Garrison Law Firm, Unique Home Solutions, Caplinger's Fresh Catch Seafood Market, Relay Indiana, Vine and Table and the state's department of tourism.
Spitler is using her connections in the local TV news industry to solicit on-air talent. Among the veteran TV newscasters who are doing segments for Spitler's new show are Paul Poteet and Tina Cosby.
While the show is starting locally, Spitler said she'll consider broadening its reach. For example, "Pet Pals TV" airs on 25 stations in 22 cities nationwide.
"The stories we do have to be able to travel," Spitler said. "They would have to be appealing to a wider geography than just our own market here. So we'll see."
Please enable JavaScript to view this content.