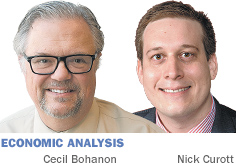 As economists, we are not forest managers, nor do we have strong opinions on the topic. Nevertheless, the controversy over the Yellowwood Back Country Area in Brown County raises an interesting economic question: How are conflicts over public land use to be resolved? Through a political process? A market process?
Early in November, the Indiana Department of Natural Resources opened bidding to licensed timber buyers to log parts of the Yellowwood area. Numerous scientists and environmental organizations support the DNR's practice of allowing limited timber harvests in state forests.
This position is opposed by members of the Indiana Forest Alliance. More than 200 of its members and sympathizers showed up at a protest to oppose the DNR action. The IFA has a number of missives from reputable environmental experts critiquing DNR practices. It also points to a letter signed by 228 scientists asking Gov. Holcomb to stop the Yellowwood timber sale.
So what is the controversy? A Ball State University colleague, biology professor Dave LeBlanc (who signed the IFA letter), gives an insight: "The Yellowwood backcountry area is just a few decades away from looking like an old growth forest." The IFA explicitly advocates "expanding and protecting old growth forests on public lands." 
Clearly, some fellow Hoosiers feel strongly about allowing forests to mature without intrusion from humankind. In a free society, they can make their preferences known and encourage the Legislature to enact laws to that end. Those with alternative views are surely afforded the same rights.
Notably, the actual timber sale evidenced a less even playing field. An open bidding process for the timber rights reveals the value of the wood to be harvested at $108,785, the highest bid submitted by a certified logger in the DNR auction. But what of the value of leaving the wood unharvested? Interestingly, there was someone reportedly willing to bid $150,000 to leave the forest untouched. However, non-use of the resource was not an option and the bid was not formalized. This policy seems wrongheaded to us: Markets are a perfectly legitimate way for people to express preferences in a free society.
Experience tells us that neither market-based policies nor politics are infallible mechanisms for discerning the best use of public lands. To this end, we see no reason why non-use of forest resources should be off the table in a market-bidding process. That's something for the next Legislature to think about.•
__________
Bohanon and Curott are professors of economics at Ball State University. Send comments to ibjedit@ibj.com.
Correction: This column has been corrected to reflect that there was no actual bid from an individual to leave the forest untouched. In addition, a reference to The Nature Conservancy was removed from the column. The Nature Conservancy supports the Indiana DNR's overall management plan as certified by the Forest Stewardship Council but does not take positions on individual timber harvests. 
Please enable JavaScript to view this content.