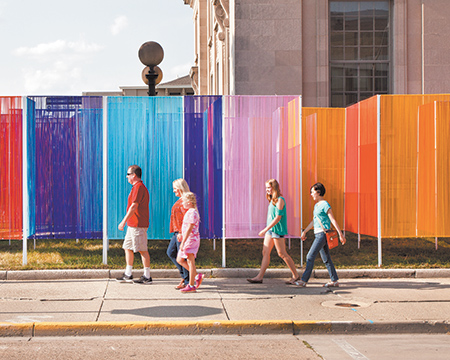 Transformations were plentiful on the central Indiana arts and entertainment front in 2017.
A former reading room of the original Central Library building became the Center for Black Literature & Culture, including inspiring decor and a significant percentage of new material added to the collection.
The Warehouse concert venue in Carmel transformed into The Cat theater and, in the process, became a hub for lower-budget community theater and independent productions. And the Hi-Fi music venue expanded in Fountain Square, taking over what used to be home base for iMOCA, the better to house larger crowds of music fans.
Rather than rest on its reputation as a world-class architectural city, Columbus created the state's most exciting destination art show with "Exhibit Columbus." (Having a film in release that was named for the city helped, of course). But the art jury is still out on what First Fridays will look like now that the Indianapolis Downtown Artists & Dealers Association has folded.
Ronan Marra kicked off his Storefront Theatre of Indianapolis with a promising production of "Infinity," while Janna Hymes picked up her baton to lead the Carmel Symphony Orchestra. Jeffrey C. McDermott dropped the "interim" to become president and CEO of the Center for the Performing Arts.
As to highlights of 2017, I'm looking back with great pleasure at Zach & Zack's production of their giddy "The Great Bike Race" (which, alas, proved the final production at Theatre on the Square until the Mass Ave mainstay returns with a new vision). The Phoenix Theatre hit solidly with the bold, contemporary plays "Human Rites" and "Barbecue." Nicholas A. Owens' choreography highlighted a production of "Memphis" at the Athenaeum and contributed to the pleasures of Dance Kaleidoscope's "Divas" program (its sequel, "Divos," arrives in April). "Ragtime" star Brian Stokes Mitchell wowed at The Cabaret. The still-running "Native Art Now!" at the Eiteljorg Museum of American Indians and Western Art once again proved the museum is as adept as any other in presenting bold, contemporary work.
And, once again, the region offered more than one person could possibly experience. Here's to even more in 2018.
Please enable JavaScript to view this content.