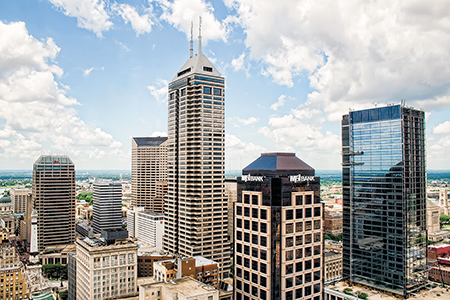 Indianapolis commercial real estate professionals believe they'll have plenty to celebrate in 2018 thanks to a generally healthy office sector, a hot industrial market bolstered by the torrid growth of ecommerce sales, and a retail landscape in which new development will help counter some of the sector's challenges.
That's the outlook of a group of regular contributors to Real Estate Weekly who shared their forecasts for the year ahead. 
Office
In the office sector, Indianapolis will remain a draw for property investors who want to cash in on the market's lower vacancies and higher rents.
"Indianapolis has very strong fundamentals and is in strong demand among out-of-state investors," said Joseph DiSalvo, who works in Indiana and surrounding states as first vice president of investments for Marcus & Millichap. Vacancies have moved steadily downward and rents up because not much new supply has been built here in the last decade, DiSalvo said.
The fundamentals are such that developers like Indianapolis-based Lauth are bullish on bringing new product to the market, especially in the north Indianapolis/Carmel submarket.
"We believe well-conceived and located projects will experience strong lease-up at rental rates in the mid to high $20s per-square-foot range," said Michael J. Garvey, partner and chief investment officer at Lauth. That bullishness is driven not just by the fundamentals but by the relatively low supply of product that satisfies tenants' evolving tastes, Garvey said.
Tenants today want office space with a certain "cool factor" located in walkable areas and in buildings with functional public areas and both indoor and outdoor fitness opportunities, he said.
Lauth will try to cash in on that demand in 2018. It's developing a $20 million, 100,000-square-foot office building in the heart of Carmel at 1212 S. Rangeline Road. Tenants will have quick access to the Monon Trail and downtown Carmel shops and restaurants.     
Garvey agreed the market's sound fundamentals will continue to draw investor dollars to Indianapolis.
"From an investment standpoint we see more outside institutional capital entering into our market for office acquisitions, which will enhance liquidity and should support lower capitalization rates for Class A office," Garvey said.
It will remain a landlord's market in 2018, predicted Resource Commercial Real Estate Principal and Chairman Sam Smith, but owners shouldn't expect a repeat of 2017's historically high rent increases.
The market's $2 per square foot increase for Class A space was a result of a record number of property sales and a record high cost of new construction, not because of high tenant demand or inadequate office supply, Smith said.
"My prediction is that traditional economic forces of supply and demand will reduce future annual Class A Office rent rate increases to under 50 cents a square foot," Smith said. That's more in line with the 20-year average, which Smith said is zero to 50 cents a square foot, with some years seeing rent declines.
Smith said to expect additional property sales in 2018 as landlords seek to lock in their gains before the next recession hits or interest rates rise.
Industrial
Bolstered by ecommerce, the city's hot industrial sector shows no signs of slowing in 2018, brokers said.
"We are likely to run out of workers before we run out of demand for industrial real estate," said W. Dustin Looper, senior vice president of industrial services for Resource Commercial Real Estate.
"The cost to build a structure, pay a worker, and get things done is simply more cost-effective in Indiana than most places," said Looper.
Indianapolis is forecast to see the seventh-highest net absorption of any North American market between 2017 and 2019, outpacing all other markets in the Midwest except for Chicago, said Luke J. Wessel, executive director at Cushman & Wakefield.
Even with new supply coming online, Wessel predicted Indianapolis would remain among the tightest industrial markets in the country, citing forecasts of a 4.9 percent vacancy rate through year-end 2019.
One of the big drivers, aside from the city's central location, is the growth of ecommerce sales, Wessel said. Through the first three quarters of 2017, ecommerce sales growth was triple overall retail sales growth. Central Indiana will continue to be a major destination for distribution facilities for ecommerce retailers, Wessel said.
Those facilities typically require a higher level of parking for vehicles and trailers, said Lauth's Garvey, who predicted second-generation industrial developments that can't accommodate those needs won't experience the same level of demand.
The overall size of the city's modern bulk market, the excellent highway network, having a FedEx hub and the low cost of occupancy and labor all contribute to the city being nationally recognized as a "core market" by institutional owners and investors, Garvey said.
"Being qualified as a core market stimulates strong liquidity in the capital markets for modern bulk space, which directly benefits developers, owners and users," Garvey said.
He predicted that continued strong demand for space, coupled with escalating construction costs, will justify moderate rent growth in the year ahead.
Adding to the market's appeal for developers, he said, "is a group of top-tier industrial brokers and firms that supply excellent "real time" information regarding leasing, development and sale activities."
Looper agreed, and added that the local industrial market will benefit as real estate developers increasingly rely on sophisticated analytics in their decision making.
Retail
The city's retail sector is a complex animal, with some locations and categories on a roll while others struggle.
Fast-casual restaurants, discount retailers and service businesses like hair and nail salons will continue to soak up space in 2018, said Keith B. Fried, senior leasing associate for McCrea Property Group.
Fried said there's also demand for retail space from medical-space users such as dentists, family practitioners and urgent care centers. "All of these medical users are looking at retail space versus more traditional office space."
The Saxony/Hamilton Town Center area in Hamilton County and Anson along Interstate 65 near Whitestown will continue to be geographic hot spots for retail in 2018, said Fried, who also expects strong demand on the west side around Plainfield, Avon and Brownsburg.   
At Anson in Whitestown, RealtyLink LLC has filed plans with town officials for the $50 million Shoppes at Whitestown. It would be built on 33 acres north of Perry Worth Road and south of Central Boulevard, to the west of Main Street, and could be open in late 2018.
The RealtyLink project would include about 275,000 square feet of retail space split among 19 tenants ranging in size from 2,500 square feet to 55,000 square feet.
That could be a precursor to bigger things. A new I-65 interchange to be built at Whitestown is expected to set off a wave of development, possibly including a 1 million-square-foot complex of higher-end retail that would be developed by locally based Gershmann Partners. That's about double the size of Clay Terrace in Carmel.
Although hot spots like Anson are expected to thrive, all isn't rosy in the local retail sector.
Bill French, executive director of retail at Cushman & Wakefield, said 2018 will see continued shake-out in the big-box market. Some spaces will revert to lenders, he said, as owners scramble to backfill vacancies created by the exits of Marsh, Gander Mountain and other retailers. French also predicted vacancies in the crowded restaurant category as weak performers fail.
French expects continued strong demand for high-profile outlots.
Please enable JavaScript to view this content.