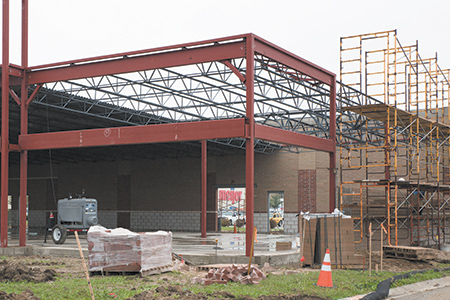 A new Interstate 65 interchange to be built in fast-growing Whitestown has spawned plans for a massive retail development that the town's top official says would be a "game-changer" for the Indianapolis area.
"I would probably equate it to what Topgolf, Ikea and Portillo's are doing for the 116th Street area in Fishers," Whitestown Town Manager Dax Norton said. "It will completely change the face of retail in this area."
The project, which could include nearly 1 million square feet of higher-end retail, would be developed by locally based Gershman Partners. Eric Gershman, a company principal, didn't return messages from IBJ seeking comment on its plans.
But Norton said the town has had "very good discussions" with Gershman about providing infrastructure for the project, which would be built in the already-bustling Anson project along I-65, near Duke Realty Corp.'s portion of the mixed-use development.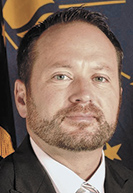 Norton
Gershman has under contract land east of I-65 at County Road 550 South, Norton said, where the new interchange will be built. The seller, Clark Family Farms, could not be reached for comment.
While Norton did not know the size of the parcel, real estate sources said it's at least 100 acres.
Plans for the new interchange and the prospect of a big retail development already are driving up prices for land in the area.
Locally based Emmis Communications Corp., for instance, is preparing for sale the 70 acres it owns just to the south, where six of its radio transmission towers stand. The land's estimated value is $150,000 to $400,000 per acre, Emmis CEO Jeff Smulyan told IBJ.
For struggling Emmis—whose revenue has fallen, in part because of station and magazine divestitures—a sale could translate into a windfall of $10.5 million to $28 million.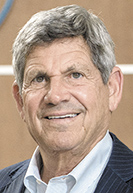 Smulyan
"Anything we can do to improve our balance sheet," Smulyan said. "It's kind of a found opportunity for us."
Smulyan's estimates are not unrealistic, according to real estate sources, who note that a site to the south where locally based developer Loftus Robinson is preparing to build a WoodSpring Suites hotel brought more than $400,000 an acre.
Whitestown sought the new interchange partly to accommodate its surging population. According to a special census by the U.S. Census Bureau, the town's population swelled from 2,867 in 2010 to 7,814 in November 2016.
Thousands of warehouse workers commute into the area, adding to congestion. Among the big employers are Amazon, Express Scripts and General Nutrition Corp.
The Indiana Department of Transportation last month agreed to construct the interchange and improve the interchange to the immediate north, at State Road 267, at a total cost of $40 million. The agreement calls for a 2020-2021 completion, with Whitestown chipping in $10 million from a tax-increment-financing district it's creating.
Gershman's plans for such a large retail project—nearly double the size of the 579,200-square-foot Clay Terrace in Carmel—come at a time few major shopping centers are being built. Shifting consumer habits and an increase in online shopping are contributing to the lull.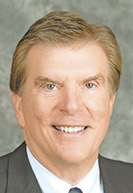 Delaney
Steve Delaney, a retail broker at the local office of CBRE, was unaware of Gershman's plans but presumes the company is seeing strong interest from prospective tenants.
"Gershman is a very astute and respected developer," he said. "They must have some sort of entertainment venue or outlet center in hand."
The developer's retail projects include the 674,000-square-foot Hamilton Town Center in Noblesville, which it co-developed in 2008 with locally based Simon Property Group Inc. Anchors include JCPenney, Dick's Sporting Goods, SteinMart and Bed Bath & Beyond.
In Carmel, Gershman partnered with the Pittman family to develop the $100 million Bridges project boasting 63 acres of mixed-use development at West 116th Street between Illinois Street and Spring Mill Road. The project is anchored by a Market District grocery store.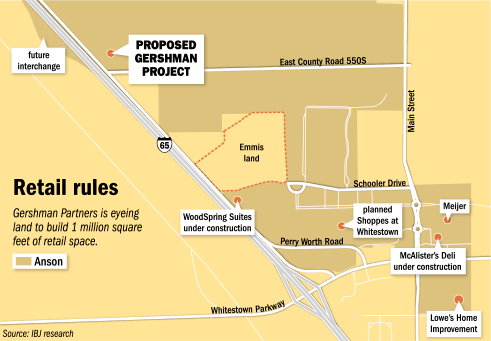 However, the developer had to scale back its ambitions for Greenwood Town Center, a $90 million shopping center on 60 acres along Interstate 65 that it unveiled in 2015. After struggling to find large, anchor tenants, it instead teamed with the owners of the Indy Fuel professional hockey team on plans to build a $40 million sports, family entertainment and hospitality complex on the site.
In Whitestown, Anson already is preparing to welcome a big retail development, perhaps emboldening Gershman to move forward with its ambitious plans.
Greenville, South Carolina-based RealtyLink LLC has filed plans with town officials for the $50 million Shoppes at Whitestown. It would be built on 33 acres north of Perry Worth Road and south of Central Boulevard, to the west of Main Street, and could be open next fall.
The RealtyLink project would include about 275,000 square feet of retail space split among 19 tenants ranging in size from 2,500 square feet to 55,000 square feet.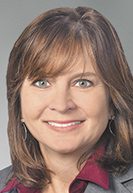 Haynes
Hobby Lobby, Burlington Coat Factory and Ross Dress for Less are among the retailers that so far have committed.
Jacqueline Haynes, a retail broker at Cushman & Wakefield, sold the 30 acres to RealtyLink and another six acres to locally based Midland Atlantic Development Co. LLC. It also has plans for retail, near the northeast corner of Whitestown Parkway and Perry Worth Road, along I-65.
"Demand continues to remain strong in the area," Haynes said. "We are getting calls [from developers] constantly."
Smulyan, meanwhile, is ready to cash in. He said it would be well worth the cost to move the six radio towers that transmit its WIBC-AM 1070. Emmis bought the land at least 25 years ago.
"It wouldn't be the easiest thing in the world," Smulyan said, "but when you're talking about valuations like this, it's relatively inexpensive."•
Please enable JavaScript to view this content.