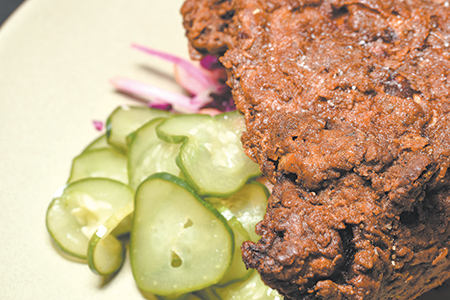 Time was when talk of Indianapolis restaurants included the town's big three in fried chicken: Dodd's Townhouse, The Iron Skillet and Hollyhock Hill.
But then deep-fried poultry drifted into a passe period and lard-laced birds came near extinction in these parts. Sure, there was Maxine topping her waffles, Gray Brothers justifying road trips. Outsiders, including The Eagle and Joella's, staked their claims, and wings flew to the tables of just about every bar. But "going out for fried chicken" no longer seemed the thing to do.
Crispy Bird (115 E. 49th St., 317-744-0000) might change that.
The latest in the Patachou restaurant empire that birthed the ubiquitous cafes along with Napolese, Public Greens, Petite Chou and Bar One Fourteen, Crispy Bird boasts of a signature heritage breed of bird, locally sourced vegetables, and from-scratch breads. Its first few weeks of business have attracted crowds to its tightly packed location across the street from the flagship Cafe Patachou and the first Napolese at 49th and Pennsylvania streets. (The neighborhood could rightly be called Martha Hooverdale, after the restaurants' owner.)
The near-constant need to adjust seats to accommodate passing waitstaff and patrons was about the only downside to my early-evening visit to Crispy Bird. My party started with two items from what the menu labels as snacks. The wonderfully irregular Chicken Skins ($6) give a hint of entrees to come, offering a crackling nosh option with Meyer lemon aioli made with kosho (a suddenly hip Japanese condiment). More surprising was the Chicken Liver Tart ($8), parking a pate in a thin pastry and topping it with a light herb salad and thin strips of green apple. Even the most liver-resistant might become a convert.
The creativity continued in the sides and small-plates department. The pommes puree that dominated the Twice Baked Potato ($8) was a near-liquid consistency—OK, it was runny. But with cheddar and chives, it still satisfied. Black Eyed Peas ($8) were perhaps working a little too hard for too little effect, with yolk confit, potlikker emulsion, and crispy greens, but they still delivered. And the Mac n' Cheese ($8) featured blocks of solid goodness.
As to the main event, I had heard some talk that the chicken didn't live up to its defining spot at the core of Crispy Bird. But my experience was quite the opposite, with expertly prepared Chicken Breast ($14) as the high point of the evening—and the pickles and coleslaw at its side running a close second. Plump but not seeming artificially pumped up and, yes, crispy to a point of threatening to lacerate the tongue, the bird came with a waitstaff-spouted biography (Gunthorp Farms, raised just for Crispy Bird, old-world farming and breeding techniques, etc.) that came just short of including the name of the chicken's masseuse.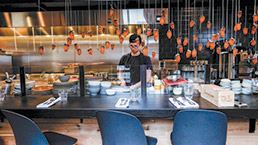 (IBJ photo/Eric Learned)
Other options include Leg and Thigh ($12) and Charcoal Grilled Chicken Breast ($14), which takes a little more cooking time but offered a distinctly different, and equally memorable, flavor.
The only non-chicken main course, which we eyed in awe as it traveled to a neighboring table, is Nashville Hot Cauliflower ($10), a big-as-a-child's-head meal with the aforementioned Meyer lemon kosho aioli.
Next time, I'll pass on the unexciting, un-pie-like Hoosier Pie ($6) and perhaps go for the Apple Maple Ice Cream Tart ($6) instead—assuming I have room.•
Please enable JavaScript to view this content.