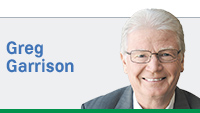 T.E.A Party: Taxed Enough Already. How hard is that?
I was privileged to speak at the first rally of these fine folks April 15, 2009, when about 3,000 Hoosiers gathered on the south lawn of the Statehouse in a 40-degree drizzling rain. No burning underwear, no stolen bicycles, no tussles with the police and not a single potty-mouth slogan or sign. Just folks who could make it to the event because it was held late enough in the day that they were finished with the day's work. Yes, work, as in "having a job."
They brought their kids, sang "God Bless America," and stood respectfully as a prayer of invocation was delivered by local clergy. They recited the Pledge of Allegiance—including that "under God" part. All in all, a pretty regular crowd of Americans, best I could tell.
Five years later, they are still in the news, the demise of their movement by lefty media types and politicians hugely overstated, and as they are maligned and mocked across the fruited plain, they continue to represent the same simple and consistent precepts.
They say they want government to be limited, and for it to take less of their income. They demand a strong national defense and insist America's borders be secure—from drug dealers, gun runners, would-be terrorists and all those millions who insist on breaking our laws as their first act on U.S. soil.
Pretty straightforward stuff. And the sources of those few ideals are pretty strong. "That government is best that governs least" is often attributed to Thomas Jefferson. The authors of the Federalist Papers and George Washington, in so many ways the father of our country, all subscribed to the notion that defending our people and soil from "all enemies, foreign and domestic" was essential.
Now there is the whole "social issue" thing that seems to disqualify lots of Tea Partiers, as in the main they are pro-life and support the radical concept that, as the dictionary says, marriage is a union that occurs between one man and one woman.
But those ideas are not universally embraced by them, either. Just like the rest of our society, there is room for disagreement there, too.
So if their beliefs are so regular and historically consistent, one wonders at the source of the hatred. They are declared to be racist, homophobic, xenophobic and, well, just so backward.
The answers are far from clear, as these people have been the base of the Republican Party for decades—at least. But the "establishment" side of the party, with the media snobs, instead do their dead level best to marginalize them and foist upon them tepid candidates who continue to fail in national elections with monotonous regularity. Mostly, it must be that thinking and living the kind of political philosophy that got us Reagan is just no longer relevant.
So these establishment scholars insult the Tea Partiers and look at them with arrogant disdain.
This is a conservative country. A great majority of us believe in God, desire to make our own way in life, and revere the founding principles of our Constitution. Tea Partiers don't want to blow up the traditions and architecture of the free markets. And they sure do not subscribe to eviscerating our military. Oh—and there are enough of them to easily elect a conservative president in 2016.
So I ask ya, what's not to like?•
__________
Garrison is a partner in Garrison Law Firm LLC in Indianapolis and a talk show host on WIBC-FM 93.1. Send comments to ibjedit@ibj.com.
Please enable JavaScript to view this content.