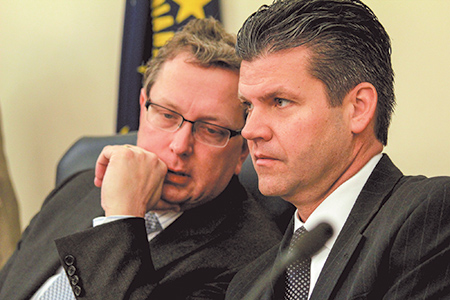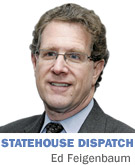 The issues aren't going to be unfamiliar to you this session. However, some of the faces in key positions may seem out of place because late-year career decisions forced some big shake-ups.
In the long run, no changes will be more important than the Senate fiscal posts.
When Noblesville Republican Luke Kenley, the fiscal dean of the Legislature, stepped down last fall after two-plus decades of helping shape the state budget, he left a big hole atop the Senate Appropriations Committee. The task of running the budget process has fallen to 14-year legislator Sen. Ryan Mishler, R-Bremen, the panel's vice chairman who led school funding formula work the last few years.
Mishler, not particularly identified with any issue area, is likely the first budget honcho with a mortuary science degree. An agreeable personality, he faces a steep learning curve despite immersing himself since his selection in details of agency operations and working closely enough with important lobbying interests to better understand the distinction between the needs and wants of business and industry, health and welfare, and agriculture and education.
Fortunately for Mishler, this is not a budget session, so he has a year to get up to speed and fully establish his bona fides.
With the Jan. 2 departure of Buck Creek Republican Brandt Hershman, Senate Republicans were required to select a new chair of the Tax and Fiscal Policy Committee and a new Senate majority floor leader.
Tax expert Hershman will be succeeded by Sen. Travis Holdman, R-Markle, a small-town attorney with a big-town intellect and confidence. Holdman, who chaired the Senate Insurance and Financial Institutions Committee, had been ranking member of Tax and Fiscal, so, like Mishler, was the initial obvious choice. Like Hershman, he hasn't been averse to tackling tough issues for Senate President Pro Tem David Long, R-Fort Wayne.
Elected in 2008, Holdman was chosen to prepare the legislative 2016 follow-on to the Religious Freedom Restoration Act and its infamous "fix." This package sought to balance religious liberties with rights of the LGBTQ community, but found no traction. Even as the measure appeased neither social conservatives nor the left, the nuanced process and measured debate Holdman oversaw avoided a plunge into another 2015 RFRA abyss. He also navigated tough calls on the Commission for the Improvement of the Status of Children in Indiana.
Hershman's role as floor leader role is filled by Sen. Rodric Bray, R-Martinsville. Though first elected in 2012, politics is in Bray's DNA. His grandfather was a conservative congressman for a generation, his father an Indiana House and Senate member—one of the most gentlemanly to serve.
While the floor leader role is essentially a partisan one, the supermajority makes that character less critical than marshaling cogent arguments on issues important to the caucus. While Bray has focused on courts and criminal justice issues, he has also been an assistant floor leader and can get his feet wet in a low-salience session.
Sen. Chip Perfect, R-Lawrenceburg, proprietor of Dearborn County's Perfect North Slopes ski attraction, follows Holdman as chair of Insurance and Financial Institutions. That insurance and banking lobbyists can't recall when a freshman last chaired this major panel speaks to his abilities.
One big House change: Rep. Scott Pelath, D-Michigan City, stepped down as Democratic leader. Rep. Terry Goodin, D-Austin, a school superintendent and perhaps the most conservative House Democrat, assembled a diverse coalition to win the post by one vote. Expect his focus to be on public education and opioid abuse this session.
In Indiana, people and politics shape the policy, and we'll have some new faces leading other new faces. Watch if this translates into new policy.•
__________
Feigenbaum publishes Indiana Legislative Insight. He can be reached at edf@ingrouponline.com.
Please enable JavaScript to view this content.