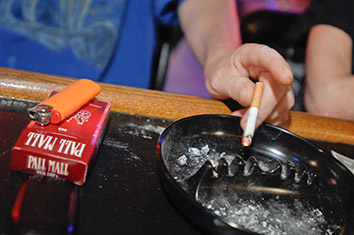 A group of health and business organizations is gearing up for another effort to reduce cigarette smoking in Indiana, starting with a push to repeal the state's so-called "smoker's bill of rights."
The Alliance for a Healthier Indiana—a coalition of hospitals, insurers, businesses and others—says it's time to roll back a 27-year-old state law that prohibits employers from screening job candidates for tobacco use.
They are pushing new legislation, Senate Bill 23, that would repeal those protections, which have been in place since 1991.
The bill, introduced by Sen. Liz Brown, R- Fort Wayne, would allow employers to require job-seekers to stop using tobacco products, even off the job, as a condition of employment.
"I think the intention is simple," Brown told IBJ on Wednesday. "We want to give employers the ability to manage their employees and their insurance costs without the state carving out a special class for protection."
Indiana is one of more than 20 states with smoker-protection laws. But many employers have complained in recent years that not being able to screen out smokers during the hiring process has raised their insurance costs.
Brown said the issue was brought to her attention by "both the medical and business communities." Her bill was referred on Wednesday to the Senate Committee on Pensions and Labor.
Organizations that support the bill include the Indiana Hospital Association, the Indiana Chamber of Commerce, the Indiana State Medical Association, Anthem Blue Cross and Blue Shield in Indiana and the Indiana University Richard M. Fairbanks School of Public Health. Together, they call themselves the Alliance for a Healthier Indiana.
They point out that tobacco is the leading cause of preventable death in Indiana, claiming the lives of more than 11,000 Hoosiers a year, and costing the state more than $7 billion for health care and lost productivity.
"It's time to repeal this outdated law and repeal preferential treatment for smokers and empower businesses to effectively manage rising health care costs," the alliance said in a statement to IBJ. "Employers want to work in partnership with their employees in helping them quit smoking."
The Indiana Chamber said Wednesday that smoking is the only voluntary action that has special protection in Indiana law during the hiring process.
"We don't agree with that," said Mike Ripley, the chamber's vice president of health care policy and employment law. "Employers foot the bill for the bulk of coverage costs for their workers, so they should be able to learn upfront if a potential employee is a smoker."
The alliance tried unsuccessfully last year to pass a law that would increase cigarette taxes by $1.50 a pack, raise the legal age of smoking from 18 to 21, repeal the smoker's bill of rights, and appropriate $35 million a year for tobacco prevention and cessation programs.
The move to raise taxes was opposed by cigarette retailers, led by the Indiana Petroleum Marketers & Convenience Store Association, which represents 90 percent of the state's 3,200 convenience stores.
They said the legislation would have put Indiana retailers at a competitive disadvantage to neighboring states with lower cigarette taxes. Indiana now charges a tax of 99.5 cents a pack, ranking the state 34th nationally and below most nearby states. The average state tax is $1.59 a pack, which is in addition to the federal tax of $1.01 a pack.
The House last year approved only one part of that effort—repealing the smoker's bill of rights—by a vote of 54-38. But the bill never got a hearing in the Senate.
The part of the bill that would have raised tobacco taxes got consolidated in the legislative budget, but died during the budget process.
The alliance, however, said it plans to push again during this year's legislative session for a $1.50-a-pack tax increase and raising the legal smoking age to 21. But, as of Wednesday evening, no bill containing those provisions had been introduced in either chamber.
Please enable JavaScript to view this content.