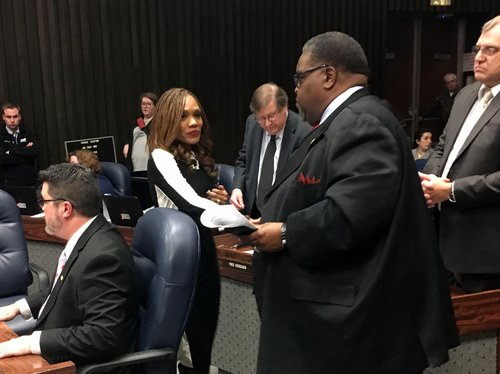 Rev. Stephen Clay ousted Maggie Lewis as president of the Indianapolis City-County Council on Monday night, making for a dramatic display of intra-party fighting within the body's Democratic majority.
Clay's election to the position comes with a shadow, though. This week, sexual misconduct claims against the pastor that are more than a decade old resurfaced—accusations Clay said were drummed up and "fanned" by Lewis' allies on the council as a way to stave off his candidacy. Lewis denies Clay's charges.
Five Democrats joined nine Republicans on the council to propel Clay over the finish line for the presidency, giving him 14 votes to Lewis' 11. Democratic Vice President Zach Adamson was re-elected with a vote of 14-11.
"This is a power grab and we call it a coup when you go to the other side, the other party, and you sell your seats, you sell votes," Lewis said. "I ran my election. At the end of the day, I couldn't beat him. I'm not going to sell my soul to be the council president. I'm going to show up, do my gig and keep it moving."
Shortly after the vote, Clay thanked "colleagues on both sides" for voting for him and pledged to work in a bipartisan fashion.
"I"m grateful. What we saw today was what one city looks like … what happens when Democrats and Republicans can work together for common good," Clay said. "Tomorrow we govern."
But Clay did not offer specifics about what would be different under his tenure as president than under Lewis, saying he wanted to improve "some things that maybe were not done to the extent that they could have been done."
"Every leadership will have its own style," Lewis said. "The goal is ultimately to serve the people in the best way they know how."
That includes giving Republicans potentially more power on the council.
"We're offering them the opportunity to discuss what a reorganized council would look like," Clay said. "I was open to having those kinds of discussions."
Clay denied sexual misconduct allegations that were reported extensively Monday morning in The Indianapolis Star and said, "I don't believe it distracted the people that voted" for him. The Star's story details a claim from Jonathan Bryant, a 30-year-old former Indianapolis resident, that alleges Clay touched his genitals through his jeans when Bryant was 13 or 14. Bryant and his family were members of Clay's church at the time.
"I have repeatedly [denied the allegations] and I do so now," Clay said. "I do believe in my own personal estimation that some of this was fueled and fanned by the opposition."
The majority of Republicans moved to support Clay in the face of the allegations, even though just weeks ago they removed Republican Councilor Jeff Miller—who has been charged with three counts of felony child molesting—from their caucus and from his committee assignments.
"This was a very bitterly fought campaign among the Democratic Party for this leadership," said Minority Leader Mike McQuillen. "I have confidence that, if there were some big shoes to drop, they would have been dropping them prior to tonight. Allegations suddenly 15 years old were flying off the sheet into the media again."
McQuillen said the situations involving Miller and Clay are different.
"Councilor Miller was charged with a crime; Councilor Clay has not been," McQuillen said.
Miller has denied the charges.
Adamson said he was surprised at the outcome and did not see it coming, but said he would work well with Clay.
"I have had a good working relationship with Councilor Clay since long before I was on the council," Adamson said. "I imagine that relationship will continue."
Asked whether he believed Republicans would now have more power on the council controlled by Democrats, Adamson said, "That would be an interesting twist."
Clay is in his first term on the council, having been elected in 2014 to serve District 13, which is on the east side. He has served as pastor of Messiah Missionary Baptist Church of Indianapolis for more than 30 years.
Lewis was first elected in a special election in 2008, then was elected to her first full term—and the council president position—in 2011. Lewis represents the west side in District 10.
Voting breakdown
The following council members voted for Lewis: Democrats Adamson, Jared Evans, Blake Johnson, Lewis, Frank Mascari, Vop Osili, David Ray, LeRoy Robinson and Christine Scales, and Republicans Miller and Brian Mowery.
Those who voted for Clay: Democrats Clay, Monroe Gray, La Keisha Jackson, William Oliver and Joe Simpson, and Republicans McQuillen, Jeff Coats, Susie Cordi, Colleen Fanning, Jason Holliday, Scott Kreider, Janice McHenry, Marilyn Pfisterer and John Wesseler.
Please enable JavaScript to view this content.