It looks like the third time's the charm.
The Westfield City Council approved a rezoning request Monday night for a proposed 309-acre development surrounding the Wood Wind Golf Club that would bring up to 340 homes near Towne Road and West 161st Street.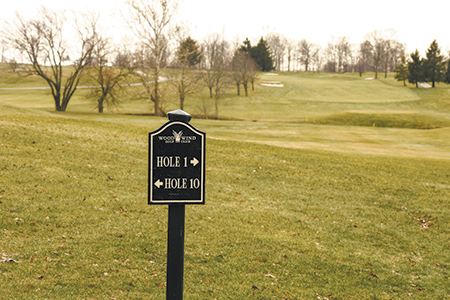 The proposal from Paul Rioux, owner of Platinum Properties Management Co. LLC, follows two failed proposals. In May 2017, the Westfield City Council turned down a plan from Pulte Homes to develop more than 850 homes around the golf course. In 2015, developer George Sweet never moved forward with his plan to replace the golf course with 315 homes, after he received negative feedback from council members.
Rioux's project would allow the golf course, which is the city's only public course, to remain open—and that's been a big sticking point for nearby residents.
Rioux also committed to an agreement that gives the city and Washington Township the ability to purchase the golf course property for $2.5 million if the golf course ceases operations before the end of 2020. The option to purchase continues beyond 2020, but the price would increase "an additional corresponding amount."
The zoning for that part of the development would only allow a golf course, park and agriculture-related uses.
Homes, which would be divided into three sections around the golf course, are expected to cost $300,000 to $500,000.
The golf course, 2302 W. 161st St., opened in 1990 and was designed by Ron Kern and Gary Kern.
Cohoat and O'Neal Management Corp., which has operated the club for seven years, has argued that a subdivision adjacent to the property could significantly help the operation. The homes would provide a supply of customers, while the course would remain open to the public.
The Westfield City Council approved Rioux's proposal 5-2, with councilors Joe Edwards and Cindy Spoljaric voting against it.
Edwards criticized some of the councilors for working out a deal with the developer and the neighbors outside of a public meeting.
"This is not how we should do business," Edwards said. "It should be done in the light of day."
But other councilors defended the actions, saying the public was involved and not everything can be hashed out in a public meeting.
"We're not doing anything behind anybody's back," councilor Steve Hoover said. "There is no perfect way to do it."
After initially receiving negative feedback from neighbors, council member Jim Ake said some of the residents had come to support the project—which is the first time that's happened with the three proposals—in large part thanks to the confirmation that the golf course would either stay open or become green space.
"It gives them certainty as to what is going to happen there," councilor Jim Ake said.
Please enable JavaScript to view this content.