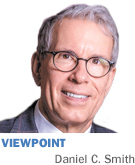 University endowments have captured widespread interest of late. These funds play an important role in providing a high-quality education while also reducing its cost. Unfortunately, misperceptions abound regarding the origins of endowment funds and how they are used.
Indiana University's endowment is composed of private gifts from alumni, foundations, and friends of the university. For example, thus far in the current For All: The Indiana University Bicentennial Campaign, more than 274,000 donors have provided gifts. No state support or student tuition is invested in the endowment.
Endowment funds are invested with a long-term perspective in a diversified portfolio of assets. To ensure donor endowment gifts generate income that keeps up with inflation, we do not spend all the investment returns each year. In a given year, we distribute 4.5 percent of the endowment's value to be used in accordance with donor intentions and, after covering investment and operating fees, we reinvest the remaining returns in the endowment.
Most questions surrounding university endowments center on the use of funds. It is widely assumed that the full endowment value—in IU's case, $2.2 billion—is freely spendable. Calls often go out for universities to "spend down" their endowments to provide more aid for students or to allocate a greater fraction of endowment resources to scholarships. This is simply not possible. University endowments are created through gift agreements with donors in which they specify how they want their support to be used. For example, in the current campaign thus far, donors have directed gifts to create endowments for about 3,000 scholarships and 150 faculty positions. We cannot arbitrarily redirect the use of those funds. Also, for most endowment gift accounts, only the income earned from the endowment investment returns can be used to fund the areas donors wish to support; we cannot deplete the principal.
University endowments have material direct and indirect effects on the affordability and quality of students' educational experiences. In the most recent year, our endowment provided more than $90 million to the university. About 38 percent provided student financial support; 35 percent funded faculty and research; and 22 percent enabled student, academic and alumni programs. The remainder helped support a range of university needs, such as outreach, facilities and student organizations.
It is important to note that even funding not earmarked for scholarships reduces the cost of attendance for our students. For example, last year, the endowment provided more than $30.5 million to support faculty positions and, in so doing, reduced our reliance on tuition to fund faculty compensation. Also, the faculty who hold endowed positions not only provide our students with cutting-edge knowledge, but they are often prolific grant writers who bring in additional private funding to support the university's mission.
Our alumni and friends have been generous over many years. Through careful stewardship of their gifts, IU's endowment continues to play a critical role in allowing us to provide one of the highest-quality and most-affordable educational experiences in the Big Ten Conference.•
__________
Smith is president and CEO of the Indiana University Foundation and the dean emeritus of the Kelley School of Business.
Please enable JavaScript to view this content.