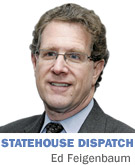 As baby-boomers gradually age out of the General Assembly, millennials will assume power and owe a debt of gratitude to a 77-year-old retired Hancock County biochemist. 
Beverly Gard, a former (1988-2012) Republican senator, chairs the Alcohol Code Revision Commission, the interim study panel spending two years reviewing the front-facing consumer and behind-the-scenes industry sides of the state's bedeviling alcohol distribution and sales laws. 
The panel was convened after an entrepreneurial convenience store owner started selling cold beer—following the letter of the law by installing limited food service. 
Given the emotions and stakes, the review could have gone astray, but legislative leaders chose Gard to lead the panel because of her even-handedness, independence, willingness to stand up to colleagues and alcohol debate neutrality.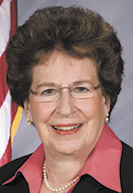 Gard
Former Gov. Mitch Daniels had already tapped her to lead the new Environmental Rules Board—where she dexterously navigated the industry and environmental lanes while not getting rolled by regulatory scientists—and she retained that post under Govs. Mike Pence and Eric Holcomb. Gard also proved her mettle standing up to lobbyists as a member of the Indiana Lobby Registration Commission.
So when legislative members of the interim panel appeared prepared to emerge from year one of discussions with a recommendation simply allowing limited Sunday retail sales of alcohol, Gard wasn't happy.
While Sunday sales have never been legal, all indications from the public, lawmakers and even package liquor store owners who wanted to protect their franchise were that its time had come. Sunday sales were the low-hanging fruit, with even House Speaker Brian Bosma, R-Indianapolis, no fan of sales expansion, labeling it "a no-brainer."  
Cold beer sales were the complication. Big box and package stores had fought mortal battles over the issue, and when they arranged a compromise that left out the convenience stores, eyebrows raised and the c-stores popped their tops. 
Lawmakers on the panel sought to avoid the issue and didn't want to recommend any cold beer sales expansion. However, lay members—including those with service on the state Alcohol and Tobacco Commission—favored the concept,
When it seemed a vote would be an empty exercise, Gard took her former legislative colleagues to task. They had asked for this job, she reminded them, and the public deserved to be heard. She asserted that special interests had driven debate and decisions to date. She scolded solons, saying they needed to keep the ball rolling and deserved to have their feet to the fire.
A commission majority then supported expanding cold beer sales, but the vote was just shy of allowing a formal recommendation. The majority of those opposing additional cold beer sales options were legislators.
The commission also voted to add resources to enforcement by raising excise taxes, fees and penalties. All who voted against the excise tax hike were lawmakers.
Expect three booze bills this session: a clean Sunday sales measure, one with the fiscal (and permit auction) proposals, and another addressing cold beer.
The latter will likely wait until 2019, when Gard returns with the heavier lift: addressing industry structure under the law—of which consumers are oblivious and lobbyists hold sway. 
Despite not being on the governor's legislative agenda, beer bills will consume a lot of calories this session. "I don't want to spend the next 10 weeks talking about that when we've got so many other problems that we need to address," House Democratic Floor Leader Linda Lawson, D-Hammond, laments, even as colleagues recognize high constituent salience.
The State's highest award is the Sachem (a Sagamore of the Wabash on steroids). Gov. Holcomb may find himself bestowing one on Gard in 2019 if she can keep solons on track and prevent the next generation of lawmakers from falling victim to preserving the status quo if it is not found to be justified going forward.•
__________
Feigenbaum publishes Indiana Legislative Insight. His column appears weekly while the Legislature is in session. He can be reached at edf@ingrouponline.com.
Please enable JavaScript to view this content.