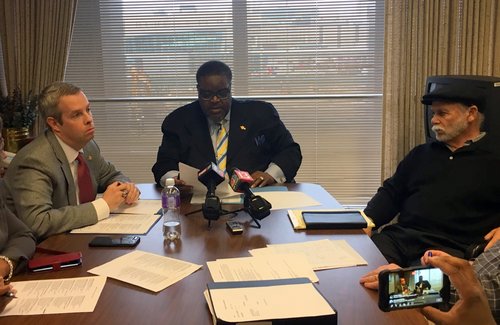 Newly elected President Stephen Clay has elevated Republicans to key leadership roles on the Indianapolis City-County Council—just days after those members helped him pull off what opponents in his own party called a "coup" to oust Maggie Lewis from the body's top spot.
But Clay's new alliance with both Republicans and the group of Democrats who propelled him to power is already showing signs of strain, as allies from both sides criticized some of his decisions.
Clay won the president position on Monday night with the votes of four other Democrats and nine council Republicans, even though Democrats currently hold 14 of the council's 25 seats.
On Thursday, Clay appointed three Republicans as leaders of key committees, replacing members of his own party: He appointed Minority Leader Mike McQuillen to serve as chairman of the Ethics Committee; Scott Kreider to be chairman of the Public Works Committee; and Janice McHenry as chairman of the Rules Committee.
He also appointed Joe Simpson, LaKeisha Jackson, Monroe Gray, and William Oliver—the other Democrats who voted for him as president on Monday—to serve as chairs of various committees.
McQuillen said the results show that Republicans have newfound power despite controlling a minority of seats on the council.
"We've basically seen the Democratic caucus fall apart in some regards," McQuillen said. "I'm very thankful Republicans were able to exert their dominance today."
But Clay stressed that "in none of these transitions have we lost the majority" of the committees.
The changes were all made Thursday in the "committee on committees," which is composed of McQuillen, Clay and Gray. 
During the meeting, McQuillen also sought to remove former president Lewis from the council's Administration and Public Policy Committee and replace her with a Republican.
But Gray said he found it "offensive" that the minority leader would try to remove a Democrat from a committee, and Clay said he was "inclined to agree" and refused to go along with the change.
McQuillen said for that reason, he would give the first meeting a "95 percent approval rating."
"I'm proud to say we are able to normalize all the committees except for one," McQuillen said.
Gray during the meeting repeatedly voiced his displeasure with appointing Republicans to lead committees.
"Some of the names I hear that are going to be committee chairs, I surely would never vote for them for committee chair," Gray said.
Asked by IBJ if Gray regretted voting for Clay in the move to oust Lewis, Gray said no. But he said he thought it was a "learning experience, a costly learning experience."
"I never thought it would go to the point where they would give away committee chairs," Gray said. "The cohesiveness of getting things done as a body is a problem. We still have an opportunity to push forward our agenda but it would just be so much easier if you had the chairperson."
Jared Evans, a Democrat, called Clay's committee leadership decisions "short-sighted" in a written statement.
"These appointments are clearly payments of debts owed for votes cast during Monday's election," Evans said. "Additionally, this is just the first of many decisions that will place political gamesmanship over the needs of our constituents."
The new committee chairs are:
— Administration and finance: Democrat Joe Simpson (no change)
— Community affairs and education: Democrat Blake Johnson (previously Democrat Frank Mascari)
— Ethics: Republican Mike McQuillen (previously Democrat LaKeisha Jackson)
— Metropolitan and economic development: Democrat LaKeisha Jackson (previously Democrat Vop Osili)
— Municipal corporations: Democrat Monroe Gray (no change)
— Parks and recreation: Democrat William Oliver (no change)
— Public safety and criminal justice: Democrat Stephen Clay (previously Democrat LeRoy Robinson)
— Public works: Republican Scott Kreider (previously Democrat Zach Adamson)
— Rules and public policy: Republican Janice McHenry (previously Democrat Maggie Lewis)
Please enable JavaScript to view this content.