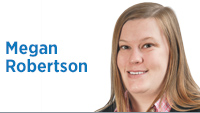 Indianapolis City-County Council Republicans showed their true colors this week in a power grab resulting in a man accused of child molestation serving as president of the body.
City-County Councilor Maggie Lewis was running to continue her role as council president. She has faced challengers in the past, but has been able to fight them back. It was, unfortunately, not to be this time.
Yes, I am disappointed. But I am not disappointed because I think Lewis was the perfect fit for council president. I don't always agree with her and, truthfully, I think she made some poor decisions in her treatment of the minority party. Those decisions were certainly part of why Republicans revolted.
In this case, however, she was the far better choice compared to her opponent: Councilor Stephen Clay, a man who has long been rumored to have been accused of molesting a teenage boy. That teenage boy, now an adult, took the courageous stand in recent weeks to make those accusations public. To be clear, charges were never filed against Clay, who has denied them. The boy's family, however, switched churches and eventually moved to another state to get away from the councilor, who is also a reverend.
Clay had about half the Democratic caucus voting for him and the race would be decided by the Republicans. He did what any smart politician would do and played let's make a deal, promising to right some of the wrongs and give more power to the minority caucus. It worked. The vast majority of Republican councilors voted for Clay, and the rest is history.
Never mind the fact that Republicans just kicked Councilor Jeff Miller out of their caucus for similar accusations. They were right to take a stand and say there is zero tolerance. Miller should step down. But to now make an about-face and claim Clay's case is different because he was never charged? Give me a break. Maybe the difference was that Miller was a political liability and they naively thought the political power Clay offered them was worth the risk.
They are wrong. Forget that Clay has already broken some of his promises; they were fools to think he would keep them in the first place.
I am a political hack; I have no problem with a power-play move. I am a Republican and I want Republicans controlling the City-County Council. I am about as sympathetic a voter they have to their plight—and I am absolutely disgusted.
Councilors, how do you think voters are going to respond to mailers saying you voted for a man for council president who is accused of child molesting?
They are all about to find out. All of them. The Republicans and Democrats who have brought this embarrassment on our city will learn, as Roy Moore did, that party loyalty is always trumped by child molestation.
They lost their souls. Now, they'll lose their seats.•
Click here for more Forefront columns.
__________
Robertson is the executive director of Enterprise Republicans and runs her own consulting firm, Frontrunner Strategies. Send comments to ibjedit@ibj.com.
Please enable JavaScript to view this content.