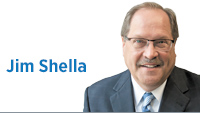 Oprah for president.
It's a statement that points out, among other things, how big a problem the Democrats have finding candidates who can win elections. It's a problem that trickles down from Washington to the local level in Indiana.
More on Indiana in a second, but first, Oprah.
On the morning after she gave that speech at the Golden Globe Awards, my Twitter feed was filled with the speculation that Oprah Winfrey would become a candidate. By afternoon, it was clear she poses a threat to Republicans because Rush Limbaugh was bashing her on the radio while others were posting pictures of Oprah kissing Harvey Weinstein.
Yet many of you would scoff if I mentioned Oprah as a potential candidate even a couple of years ago. Donald Trump has changed that. In this regard, at least, he has a "consequential" presidency (or "consensual" as he said in that deleted tweet). He has made it acceptable for many Americans to consider a celebrity for commander-in-chief.
That's why Mark Cuban and others also get mentions.
It could be, however, that he will also make it difficult for a celebrity to follow in his footsteps. We will see.
Either way, we know Democrats are struggling to find someone to lead their party. Forget Hillary Clinton. Bernie Sanders had his day in the sun. Joe Biden is considered too old by many, and Elizabeth Warren doesn't seem to light the spark the party needs. The search is on for the next Barack Obama.
And here in Indiana, it might be worse. U.S. Sen. Joe Donnelly looks to be in one of the most competitive races of 2018. At least three well-financed Republicans are seeking to unseat him. Even if he survives, he will likely remain the only Democrat elected on a statewide level.
No one stands out as the potential Democratic candidate for governor in 2020. The party lacks leadership. (Worth noting is that former House Minority Leader Scott Pelath was the party's most effective spokesman and he has chosen to step away from politics.)
Republicans in Indiana have more resources, more officeholders, more energy—and they have taken steps over the years to build on that.
They recruit candidates year-round through the Indiana Leadership Forum. Interested party members (generally with supportive employers) are selected for training that takes place for a full day each month. The Lugar Series does the same thing for selected women.
Democrats have nothing that compares.
Indiana Democrats have been in this position before. In the mid-'80s, their only statewide elected official was the state auditor and they were looking at a bleak future. Then Evan Bayh arrived on the scene and fortunes changed. The Democrats became a force for a couple of decades. But now the pendulum has swung back to where it was.
Still, remember that 2020 is a long way off in political terms and there is a distinct possibility that Donald Trump could trigger a wave election in favor of the Democrats in 2018. That would go a long way toward creating new party leaders.
In the end, elections are about choices. We need better choices at all levels.
Personally, I hope that, whether Oprah is on the ballot or not, the presidential choice offered in 2020 will be better than the one we were presented in 2016.•
Click here for more Forefront columns.
__________
Shella hosted WFYI's "Indiana Week in Review" for 25 years and covered Indiana politics for WISH-TV for more than three decades. Send comments to ibjedit@ibj.com.
Please enable JavaScript to view this content.