Should CBD oil—a derivative of the marijuana plant—be available for sale in Indiana?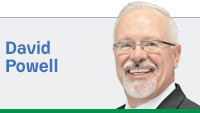 CBD-infused watermelon slices, gummi worms, sour faces, chocolate, hard candy, cake pops, sodas and vaping liquids in strawberry and "jungle juice" flavors—these are but a few of the CBD products we have seen available to the public.
What started last year as a well-intentioned, measured effort in the Indiana General Assembly to assist families of children with treatment-resistant epilepsy has morphed into an all-out push to make a marijuana-derived substance available to the general public through an unregulated market.
Here's what we know about CBD: A reputable pharmaceutical company has developed CBD into a drug product that, in carefully controlled clinical trials, produces significant reductions in epileptic seizures in young people afflicted with treatment-resistant epilepsy, compared to patients who are not administered the drug. The CBD medication developed was created in a controlled environment to contain very trace amounts of THC, the compound in marijuana that gets you high. The trials were so successful that the company is confident the FDA will approve the drug for doctors to prescribe this year. This is wonderful news for these children and their families who are desperate for relief.
Consumers should be warned, however, that CBD products have side effects that are widely agreed upon, including drowsiness or sleepiness. We do not know how CBD interacts with other drugs a person might be taking, nor do we know how casual use of this drug affects one's ability to drive or operate machinery.
CBD manufacturers make a variety of unsubstantiated claims about their products' ability to cure ailments from acne to cancer. The FDA has publicly warned some companies against these unsubstantiated claims. The FDA has also randomly tested products and found in 2016 that 11 of 13 products it tested did not contain CBD in the amounts listed on the label. This unregulated free-for-all is not what we want for Hoosiers.
CBD remains an illegal controlled substance under federal law. We know this isn't popular, but it is true. As law enforcement officers, Indiana prosecutors cannot support proposals that might be in violation of federal law.
Prosecutors are not averse to medical professionals testing this product in a manner that can prove to the FDA its safety and efficacy for the general public. Prosecutors are not opposed to controlled and structured regulation that will ensure citizens are safe if they choose to consume CBD. But until the FDA approves a drug for treatment, it should not be marketed to an unsuspecting public like candy or as a cure-all.•
Click here for more Forefront columns.
__________
David Powell is executive secretary of the Association of Indiana Prosecuting Attorneys. Send comments to ibjedit@ibj.com.
Please enable JavaScript to view this content.