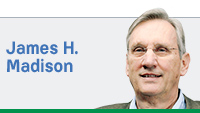 There have been times young Hoosiers flooded into the political arena.
Indiana's first territorial governor, William Henry Harrison, was in his late 20s when he assumed office. Jonathan Jennings just turned 30 when he became the first state governor.
Our greatest political leader, Oliver P. Morton, assumed office at 38, just as the South was succeeding.
In more recent times, a youthful Keith Bulen energized the Republican Party, clearing out the old standpatters and recruiting smart kids like Mitch Daniels.
Lee Hamilton and Richard Lugar were 30-somethings when the political bug bit.
We have some counterparts today.
Megan Robertson heads a brilliant campaign for Freedom Indiana.
John Zody brings energy to the Democratic Party organization.
Frankfort Mayor Chris McBarnes and South Bend Mayor Pete Buttigieg are offering examples of new leadership.
Where are the others?
Why are there so few bright, energetic, idealistic young people in Indiana politics?
Is it because there are so few role models and mentors?
Where is the nobility that inspires youth, the profiles in courage that call for emulation?
Rather than witnessing democratic ideals in action, young adults tempted to enter politics tend to see self-interest and greed.
They see too many lobbyists, state bureaucrats and members of the Legislature at the trough.
They hear the sounds of the revolving door that sends regulators to utility companies.
What young person would want to follow in the shoes of such poster boys of the last legislative session as Mike Delph and Eric Turner?
Political scientists write about the sense of efficacy—the expectation that political action will have consequences or not.
We live in an age of diminished expectations.
We live in an age of declining voter turnout in Indiana, in the bottom fifth in 2012, compared to leading the nation at one time.
We live in an age of old men in dark suits, with limited vision, some of whom may be quite happy if young troublemakers don't pay attention to what's behind the curtain.
Nothing so encapsulates the problem as the foolish waste of resources on the marriage amendment, an issue most young Hoosiers could only ridicule.
And that's the problem.
Young adults are more sophisticated these days and more cynical about politics and political parties.
Young people quickly (sometimes too quickly) smell the odors of political scheming, shake their heads and turn away.
Perhaps older, experienced leaders can help them understand the importance of political parties and politics.
Perhaps there is a big picture that needs more visibility.
Youth can be idealistic and raw, but then aren't those vital qualities for democracy?
Bar the door, Katy, if some event or leader unleashes them.
Leaders inspire.
In the winter of 1779, as 26-year-old George Rogers Clark marched toward Vincennes, his men lost spirit.
I "whispered to those near me to do as I did," Clark wrote, "immediately took some water in my hand, poured on powder, blacked my face, gave the war whoop, and marched into the water without saying a word."
Clark's men followed.
Who's going to lead the 21st century charge on jobs, education and environmental issues?
And, selfishly for us aging baby boomers, who's going to care about Social Security, Medicare and other senior entitlements?
The political disengagement of young Hoosiers might be more serious than the much-publicized brain drain.
All of us need their non-traditional optimism, energy and smarts.
Here's a great bicentennial project: Let's give a war whoop and energize the kids.•
__________
Madison, an Indiana University historian, is author of the forthcoming book "Hoosiers: A History of Indiana." Send comments to ibjedit@ibj.com.
Please enable JavaScript to view this content.