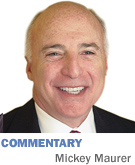 Each January I reflect on the prior year's columns. I am always curious about the topics and people I have written about over the course of the year. I hope you are, too.
Last June I contended that gerrymandering produces a significant number of races in which only one candidate is on the November ballot because the opposing party knows it is futile to field a contestant. In the last midterm election, Indiana had the lowest turnout in the nation. One could argue that not showing up at the polls represents a rationale decision in a gerrymandered district.
Gerrymandering is incompatible with democratic principles. It is no wonder that nonpartisan advocacy for fair redistricting is mushrooming, but last year, in spite of grassroots support, neither Speaker Brian Bosma nor Gov. Eric Holcomb opted to provide the leadership needed for success. The issue is heading for the U.S. Supreme Court, but sadly, there is little evidence that the climate has improved at the Indiana Legislature or in the governor's office.
In May, I drew an analogy between Rip Van Winkle, who slept for decades and completely missed the American Revolution, and my column-writing hiatus that began in June of 2016 while I finished my book, "Cinderella Ball."
When I put aside this column, voters and donors were lining up to oppose Gov. Mike Pence's re-election bid. IBJ reported that roughly half of the top donors to Pence's 2012 gubernatorial campaign had withheld monetary support, while some even donated to his opponent, John Gregg. Like old Rip, when I awakened the world had turned upside down. I entered my slumber knowing that Pence would not have four more years to wreck destruction on Hoosier values. I awakened to find that Pence was not our governor. He was our vice president.
That column elicited a response from friend Rex Early—a magician with a pen and a master of satire. He said he had read my article about Rip Van Winkle and claimed to know Rip while they lived in Vincennes. Early claimed the Rip he knew woke up to see a president who wanted to rebuild our military, close our borders and preserve the Second Amendment. He said Rip was especially proud that President Trump could not have chosen a smarter and better vice president than Mike Pence. Thank you, Rex, for the dialogue.
In August I wrote the most popular column of my 2017 efforts. I stated I was disheartened over the melancholy exhibited by my contemporaries on what should be cheery occasions. Comments including "I just purchased my last car" and "this is my last decade of productive life" are reasons I refer to some of my friends as part of the "lasts" generation. The eighth decade (70-79) is no time to surrender. There is still time for magnificent achievements. I implored readers not to dread old age and to look forward to the firsts that lie ahead. I listed some firsts, a few of which I will reprise.
• The first time I had a full day ahead of me at the office but slept until 10 anyway.
• The first time I learned that the Biblical prophecy of three score years and 10 is as false as Santa Claus.
• The first time I had a chance to pursue dreams that I had set aside years ago.
I received mail from people who were in their 70s and looking forward to creating some "firsts." One reader suggested that we all continue to work on something that we truly enjoy rather than retire and fill our days with golf, cigars and scotch.
I lodged another first last month: The first time I hosted my birthday party with all nine grandchildren—a sleepover in matching pajamas.
I wish you a healthy 2018 filled with happy firsts.•
__________
Maurer is a shareholder in IBJ Corp., which owns Indianapolis Business Journal. To comment on this column, send email to mmaurer@ibj.com.
Please enable JavaScript to view this content.