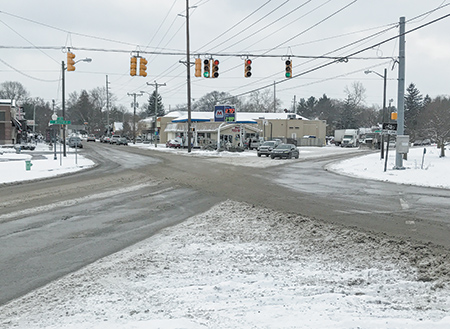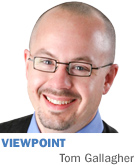 I dread the thought of cleaning snow off the car and driving through the wintery fluff this time of year. I will admit, however, that I enjoy experiencing the season's "sneckdowns." Also known as snowy neckdowns (bump-outs, in local parlance), this naturally occurring phenomenon traces in snow our dominant paths of movement, revealing how little of the road we actually use. For urban-design nerds like me, sneckdown sightings have become a winter hobby of sorts, as you can see on Instagram and Twitter. However, tracking sneckdowns has a more serious side. All those coatings of packed-down snow make visible hidden opportunities for enhanced mobility and livability.
As hard as it is to fathom, before the 1920s, streets were multi-modal and dominated by pedestrians. Automobiles were considered dangerous menaces within the promenade-like streets of our downtowns. Then cars took over. For almost 100 years, maintaining significant distance between cars and pedestrians while giving the auto unfettered priority has been the primary rule of road-making.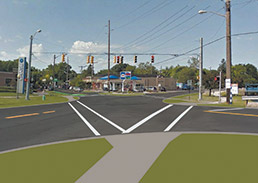 The intersection of Illinois Street and Westfield Boulevard narrowed by the snow (top left) and as it might appear if the alterations were made permanent. (Photo and rendering courtesy of Ratio)
New collaborations among the professionals whose responsibility it is to design streets—primarily landscape architects and civil engineers—are beginning to rewrite those rules for the better, a phenomenon reinforced by support from the Federal Highway Administration, the National Association of City Transportation Officials, and the Institute of Transportation Engineers.
This shift in thinking is particularly evident in what has come to be known as the road diet. A road on a diet is like a sneckdown for every season, with the added benefits of permanent amenities. Such efforts to right-size the public rights-of-way for all users have been implemented and studied across the country over the last decade. Consistently, road-diet efforts have:
■ afforded safer and more efficient movement of vehicles;
■ provided more effective peak-hour capacities;
■ reduced speeding and collisions;
■ created more space for multiple modes of transportation; and
■ enhanced livability and opportunities for economic growth.
Despite the reduction of width or number of lanes dedicated to cars, roads on a diet move more people through the corridor in a safer and more comfortable manner.
In Indianapolis, the Cultural Trail and Georgia Street might be the most prominent outcomes of a road diet. They need not be that elaborate to be successful, however, as recent changes to New York and Michigan streets east and west of downtown will soon attest.
Urban living is on the rise, and with it, the desire for enhanced walkability and rapid-transit options. Smart city technologies (i.e. ride sharing and parking availability apps) are changing how we choose to get around. Driverless cars seem an inevitability, if not yet a functional reality. Clearly, we are at the beginning of an era that will be challenging for street design but one that is likely to need less space dedicated solely to the automobile.
Do you see opportunities for right-sizing in the neighborhoods or districts you travel in? Send me the best pictures of your sneckdown sightings this winter. I'll share them with the city and the Ball State University Urban Design Center.
For more, look for #sneckdown on social media, or visit safety.fhwa.dot.gov. Under the Resources tab, click Road Diets, then Case Studies.•
__________
Gallagher is a principal and urban designer with Ratio and a professor-in-practice of urban design at Ball State University. Send correspondence to TGallagher@ratiodesign.com.
Please enable JavaScript to view this content.