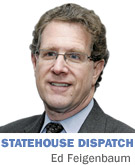 Indiana's 13 gambling properties largely enjoyed a profitable 2017, with win—the casino's take from all wagering—of almost $2.24 billion. But that's up only marginally (less than 1.1 percent from 2016), and casino and racino revenues lag their 2009 apex by almost 20 percent.
With income down $558.3 million from less than a decade ago—and gambling-related employment and state and local tax collections reeling accordingly—some lawmakers are looking to recharge the state's gambling industry. After all, if revenue had simply remained constant at the 2009 rate, we would have collected taxes on more than $2.8 billion in now forgone gambling dollars over the last eight years.
Quarterbacking the revival movement is Rep. Alan Morrison, R-Brazil. He sees an opportunity if the U.S. Supreme Court finds unconstitutional the 1992 federal ban on sports gambling that prevents most states from offering the popular option. New Jersey is fighting the NCAA and professional sports leagues, seeking to overturn the law. 
The west-central Indiana lawmaker wants to ensure that Indiana—like several other states—can hit the ground running should the Supremes pave the way for sports wagering to be legalized on a state-by-state basis, an outcome widely expected by the gambling industry and federalism advocates.
You might know Morrison from his successful effort to implement a paid fantasy-sports framework in Indiana two years ago, overcoming skeptics to position Indiana among the initial handful of states formally legalizing the activity.
Morrison, who earned two sports-management degrees—a bachelor's from Pennsylvania's Slippery Rock University and a master's from Indiana State University—began his professional career at Rose-Hulman Institute of Technology in sports-facility management, so he comes by his interest in the theme honestly. 
When he proposed the fantasy-sports measure, some envisioned it as a cash cow for the state. But that wasn't his priority. He sought to facilitate regulated play by the large number of Hoosiers who were already participating in the activity without assurances of fairness (unlike games at the commercial casinos) and wasn't focused upon generating money for state coffers. 
Will that remain true if the state opts to tap the sports betting market? Will Indiana seek to open the floodgates on this form of wagering largely as a convenience to Hoosiers, to help prop up the companies that operate Indiana's ailing casinos and racinos, or to maximize state income?
An Oxford Economics study released in October suggested that sports wagering at casinos only, taxed at a base rate it posited, would produce Hoosier bets annually topping $3 billion, with $180.5 million in gambling revenue. Morrison's HB 1325 imposes a modest 9.25 percent tax on sports wagering's adjusted gross receipts. The Legislative Services Agency estimates the tariff would generate $3.1 million to $18.8 million annually for the state's general fund.
More intriguing: a 1 percent "integrity fee" Morrison seeks for sports-governing bodies, based on the handle, which represents the total amount wagered. That would deliver $30 million-plus annually to the sports leagues given wagering estimates and has the casino industry in a tizzy nationally. 
The NCAA hasn't formally weighed in on the Morrison bill but isn't likely enthused.
Not only is the NCAA headquartered here, but its commitment to locally hosting Final Four basketball tournaments and regionals (among others) on a set cycle and the 2022 national collegiate football championship game in Indianapolis gives it a seat at the legislative table. Even as some professional sports leagues (most notably a suddenly enthralled NBA) now seem eager to participate in wagering, the NCAA continues to look askance at the prospect.
That doesn't trouble the affable Morrison, who worked with NCAA officials while at Rose-Hulman and on his fantasy law. He's undaunted by the uphill climb, and might have the wind—and other strong allies—at his back in his quest to help Indiana recoup some forgone gambling dollars.•
__________
Feigenbaum publishes Indiana Legislative Insight for Hannah News Service. He can be reached at edf@ingrouponline.com.
Please enable JavaScript to view this content.