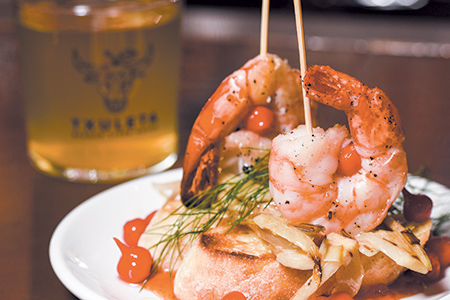 Let's get the obvious out of the way first. The pronunciation is chew-lay-ta.
Sure, some potential customers would already know that. And others would pretend to. But I wouldn't want anyone to skip out on Brugge Brasserie's new upstairs neighbor out of elocutionary concerns.
Txuleta Basque Cider House (1011 E. Westfield Blvd., 317-919-3555), which quietly opened in December, specializes in cuisine and ciders from the Spain/France-straddling region where txoco—societies of hardcore foodies—take the region's cooking very seriously.
So, apparently, does the kitchen crew at Txuleta.
Ribeye ($28), Ttoro ($23) and Spicy Chicken ($18) are the large-plate choices, but we bypassed those in favor of sharables.
The Pintxos (peen-chos) menu features 10 such offerings, each stacked on thick bread and easily sharable for two. Among the hot choices, Shrimp a la Plancha ($6) skewered a pair of sizable shrimp with creamed fennel and lemon confit, while Squid Albondigas ($7) artfully added blistered peppers, sofrito marmalade and almond picada.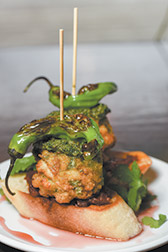 Squid Albondigas.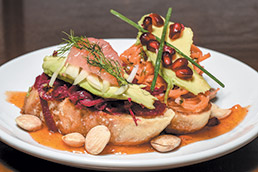 Carrots & Beets.
From the cold side, Carrots & Beets ($5) were a highly recommended winner, with the vegetables garnished with avocado, marcona almonds, fennel, pomegranate, pepper jelly and a hint of grapefruit. That might sound overly busy, but it turned out to be the "we-want-more" pick of the table.
Slightly larger, the For the Table list includes Artichoke Fritters ($6) with piquillo, a variety of chili pepper from the region. Cider-Poached Txistorra Chorizo ($7) set a party of sausage tubes to sail in a sauce with pickled shallot, thyme and egg. The frittata-like Salt Cod Omelette ($8) included potato and mojo verde, a cilantro and cumin sauce I would have liked to have tasted more of. And Squash ($8), was far more complex than it sounded, with nora pepper, thyme and a sour-orange vinaigrette.
For dessert, Polvorones ($8)—a quartet of barely-over-the-size-of-a-quarter cookies—need a rethinking ($2 each? Seriously?). Ditto for the Mamia ($6), a tiny dish of honey and walnut-enhanced curd. Authentically Basque, perhaps. Worth the price, not really. The kitchen combined both desserts on one plate and it still didn't feel like a full offering.
The drink of choice to go with all of the above is cider, with a trio of primary choices from the fruitier Sidra Naturala ($4) to the subtler, dry Bon Bon ($4). Wine and beer is also available from a bar backed by a handsome grid of colorful tiles.
If all these choices overwhelm, you can opt for the Cider House Menu for two ($87) which combines the Salt Cod Omelette, Txistorra Poached in Cider, the 26 oz. Bone-In Ribeye and a dessert.
Like its downstairs parent, Txuleta is family-friendly—just know your kids won't be allowed to play at the shuffleboard table because it's near the cider vats.•
Please enable JavaScript to view this content.