The drug tests DISA Indiana performs on the employees of its clients are revealing a disturbing trend—more are testing positive for heroin.
While the number still is minuscule compared with the amount who get popped for marijuana use, the increasing use of harder drugs is reflective of the opioid crisis sweeping across Indiana and other parts of the country.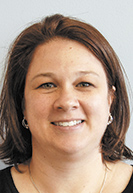 Ellefson
"When you're doing a drug test, if they have a prescription, they could be abusing it, but they're legally abusing it," said Tiffany Ellefson, general manager of DISA Indiana, formerly Midwest Toxicology Services.
Overall, 80 percent of Indiana employers have been affected by prescription drug misuse and abuse, including opioid painkillers, in their workplaces, according to a December 2015 survey by the National Safety Council.
The survey, the first of its kind in the nation, found that 64 percent of the 200 companies that responded believed prescription drugs such as Vicodin, OxyContin and Percocet were bigger problems than illegal drugs.
The results came as Indiana's problems with heroin and opioid abuse began to surge. They have only escalated since—a spike that, at a minimum, makes it tougher to find and keep workers who can pass a drug test. At worst, it raises the risk of impaired workers endangering themselves and their colleagues on the job.
Nationally, New Jersey-based Quest Diagnostics found that, of the 9 million drug tests it performed in 2016, 4.2 percent came back positive—the highest rate in 12 years.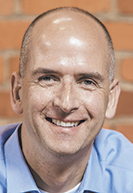 Cook
The drug crisis is hitting the industrial and manufacturing sectors hard, though it's also seeping into more professional settings, including the tech community, said Tim Cook, CEO of KSM Location Advisers.
The affiliate of locally based Katz Sapper & Miller LLP represents private-sector clients in government incentive negotiations, which often are tied to assurances from companies that they'll hire a certain number of employees within a set period.
Several KSM clients, particularly in rural parts of Indiana, have found that at least half their job applicants either fail the drug test required for employment or pull their application when they realize a test will be administered. Cook said.
"With our industrial clients, a lot of them have started to look at job applicants that five to seven years ago they wouldn't have looked at," he said. "People who have been incarcerated."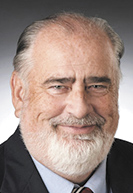 Gaylor
An expanding economy and tight labor market also present challenges. The U.S. unemployment rate in December remained at 4.1 percent for a third straight month, the lowest level since 2000. Indiana's jobless rate is even lower, 3.7 percent as of November. The state has yet to report December's figure.
Some construction contractors are so hard up for qualified employees that they are having to turn down work, said J.R. Gaylor, president of the Indiana-Kentucky Associated Builders and Contractors, which represents non-union shops.
The opioid epidemic further exacerbates the predicament.
"When you're struggling to find workers and you think you've found somebody, and they fail a drug test, it just adds to the shortage," Gaylor said.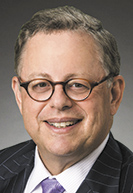 Korzenik
Jeff Korzenik, chief investment strategist at Cincinnati-based Fifth Third Bank, calls the opioid epidemic the country's "biggest workplace problem," given that 40 percent of users are out of the workforce.
"Our biggest fear for the U.S. economy is that we're running out of workers," Korzenik said. "When you see who's not in the labor force, you realize what a serious impediment it is to growth."
Korzenik estimates the opioid crisis is costing the United States $370 billion annually in gross domestic product growth, or 2 percent of the overall $19 trillion economy. Treatment and the costs associated with drug crimes committed run about $80 billion, he said.
"It's ending our [economic] expansion earlier than it should," Korzenik said.
Indiana employers are "desperate for information" on how to train supervisors to identify early when employees might have an opioid problem, said Kevin Brinegar, CEO of the Indiana Chamber of Commerce.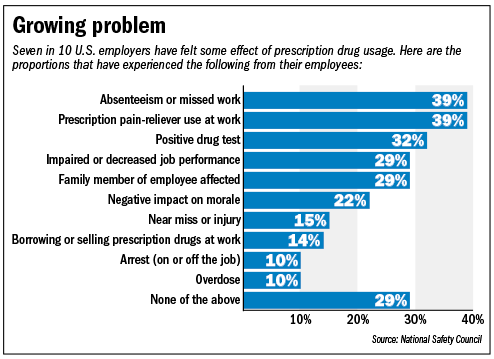 And some companies are beginning to take a more lenient approach, recognizing that it is an addiction, Brinegar said.
"They're taking a little different approach and giving them a second chance after failing a drug test," he said. "They're trying to destigmatize employees that have opioid problems to make it easier for them to return to the workforce."
Even so, 65 percent of employers surveyed last year by the National Safety Council say opioid abuse is a justifiable reason to fire an employee.
The survey suggests, however, that many opioid abusers might slip onto payrolls undetected. Only 57 percent of responding companies drug-test all employees, and 41 percent fail to screen for synthetic opioids.
Only about 25 percent of DISA Indiana's clients screen for synthetic opioids such as OxyContin, Percodan, Percocet and Vicodin. Ellefson expects the percentage to increase this year, after the Department of Transportation revised drug-testing regulations for motor carriers in response to the opioid crisis.•
Please enable JavaScript to view this content.